C vibrant vivacious variety
C Vibrant Vivacious Variety
Cabaret
10am (1140 mins)
1-29 Aug 2016
C Venue & other venues, see below
Free
This is a 2016 show that has now finished.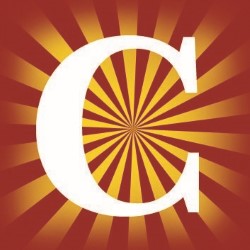 Show details
Cabaret performed on the following days in August 2016...
Performances at C and C nova are 19 hours. Performances at C soco at ibis and C scala are 17 hours. Performances at C too, C south and C cubed are 15 hours.
Mon
Tue
Wed
Thu
Fri
Sat
Sun
29
30
31
1
2
3
4
5
6
7
8
9
10
11
12
13
14
15
16
17
18
19
20
21
22
23
24
25
26
27
28
29
30
31
Days marked with a + indicate multiple performances.
Differing performance details
Venue details
Comedy! Circus! Cabaret! At our five venues across the city: C, our powerhouse of performance on Chambers Street. C nova, our vibrant hub at India Buildings, Victoria Street. C too, our original offshoot with garden cafe on Johnston Terrace. C cubed, our historic venue at Brodie's Close, Lawnmarket. C south, our latest offshoot with alfresco cafe in beautiful gardens just off Clerk Street. A festival feast of live performance. Bands, bars, stars. Art, activities, workshops. Film, theatre, dance. Fantastic free events. Vibrant vivacious variety. Eclectic electric entertainment. The ultimate Edinburgh experience. Daily programme: CtheFestival.com.
Share this show