Transit Cabaret
Transit Cabaret
Dance
4pm (1 hour)
7-15 Aug 2015
10 - 13
This is a 2015 show that has now finished.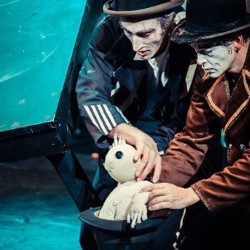 Show details
Dance performed on the following days in August 2015...
Mon
Tue
Wed
Thu
Fri
Sat
Sun
03
4
5
6
7
8
9
10
11
12
13
14
15
16
17
18
19
20
21
22
23
24
25
26
27
28
29
30
31
1
2
Venue details
Five contemporary clowns musicians actors create physical and visual comedies, not afraid if one existential issue or another pops up almost by accident along in the way, in a show influenced by the colourful, morbid and funny paintings of James Ensor. They travel through a universe full of meanings, emotions and humanity. A silent show, like a silent movie, a clever, poetic and festive mix of music, gesture and underground cabaret-theatre. Or a tragic-comical hymn to life performed by five rather witty, buffoonish clowns.
Share this show
Reviews
Full press release
Created by a couple of actors/musicians emerging from schools in the "Jacques Lecoq" style, the company explores the forms of festive, physical, poetical, free, playful and underground theatre.
Craftsmen of their creations, these crazy and talented artists look for light and original forms, articulated with a lot of humour (black or not...) to go and meet all kinds of audiences.
After twenty years on the roads (from Brussels to Casablanca via festivals like the ones of Avignon, Gran Canaria, and soon Romania), today they lay their "decors" down for the first time in Scotland!
They are impatient to present to you their lasted creation: Transit Cabaret. A tragi-comical hymn, like a feast for life, with 5 clowns/buffoons/musicians inhabited by a lot of ingenuity. Physical and visual theatre - without text.
A show mixing "burlesque" and dance theater, rhythmed by live original musical creations (waltzes, tango, kletzmer music, blues...).
Influenced by the pictorial universe of James Ensor. The story can't really be told, it is revealed on stage. The stage delivers a game of life, laughs, tears, poetized and irresistibly tender or funny characters. The story of a journey where fortuitous meetings can lead to great disasters... We can then see that, even if we are all on the same boat, it often happens that we only think about ourselves... The company plays with it's magical wand to show us again the power that theatrical madness can have.
Here, the universe is majestic and festive, sublime and marked by a beautiful humanity. A whirlwind from which we leave capsized but with the certainty that our heart is back in the right spot..
With: Cristel Van der stappen, Barbara Moreau, Bernhard Zils, Réginald Spitsaert and Benoit Creteur.
Writing by Benoit Creteur.
Director: Micheline Vandepoel.