Tim FitzHigham
Tim FitzHigham: The Gambler
Stand-up / Storytelling
8 - 11
This is a 2015 show that has now finished.
This show was cancelled.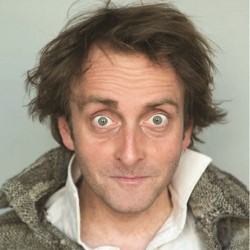 Spirit of the Fringe. Multi award-winning, Perrier nominated comedian, author, explorer and air recycler Tim FitzHigham is back in a show about his favourite past time... gambling! Tim is a man with bad ideas - he rowed the channel in a bathtub, now he's taking on more of the world's weirdest wagers. Star of his own BBC Radio 4 show The Gambler come find out if this is his winning year! 'A five-star performer' (List). 'Gut bustlingly funny' (Scotsman). 'Inspirational' (Time Out). 'A national treasure' (Chortle.co.uk). 'The perfect British eccentric' (Dara O'Briain).
Share this show
Full press release
Fringe Legend multi award-winning, Perrier-nominated adventurer, author and extreme expeditionary comedian Tim FitzHigham, is back in a BRAND NEW SHOW.
Having gone on to secure two BBC Radio 4 series on the back of it has only further fuelled his obsession with a wager - so now, three years on, he's back. Back in the clubs, libraries and archives of gambling with more research under his belt, and is doing what he does best - taking on the weirdest wagers in human history.
This year he will be walking blindfolded through four lanes of traffic, trying to shut the West Country and cooking under 10 feet of water using out of date explosives - what possibly could go right?
Tim has always been infamous for doing things that no one else would dare do... or that perhaps wouldn't occur to anyone else to do. Previous Edinburgh shows saw him get locked in a Da Vinci Coded trap (Hellfire 2014), paddle paper boats down the Thames (Paper Boat 2003), ride hollowed out logs up the Amazon (Gentleman Adventurer 2010), run deserts in suits of armor (Don Quixote 2006), cross the channel in a bath tub (In the Bath 2005), invent endurance Morris Dancing (Bard's Fool 2008), sprint against race horses and take inflatables down Olympic black skiing runs (Gentleman Adventurer 2011), vigorously test the Karma Sutra (Karma Sutra 2007) and climb up the outside of some of the world's tallest buildings (Challenger 2013).
Tim is, it must be accepted, a silly man. His unswerving devotion to bad ideas and the shows they create has seen him break bones, re-mortgage his house, contract a flesh eating microbe, collapse of dehydration, be blinded in one eye for six months, spend several nights with the Leith Police, survive concussion and be hospitalised with a bone-marrow eating infection amongst a catalogue of other injuries and stunning disasters. I challenge you to find any other comic who chases the punch-line to a story this hard.
Tim's shows have sold out around the world - from the comedy festivals of Melbourne, Adelaide and New Zealand to tours of Switzerland, Norway, the West Indies and Denmark, as well as the UK. Tim's BBC Radio 4 hit The Gambler has just completed its second series (in 2015) and his CBBC programme Super Human Challenge is now on BBC Worldwide. Tim has scrabbled in the mud on Time Team, regularly MCs Jongleurs (perhaps the most foolhardy of all challenges) and played himself in a film directed by Clint Eastwood. He also has a lavatory and a beer named after him.
---
Tweets by timfitzhigham