The Tall Women
Tall Women in Clogs
Variety
7:40pm (50 mins)
24-29 Aug 2015
3 - 7
This is a 2015 show that has now finished.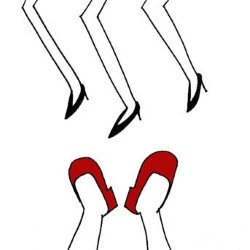 Mon
Tue
Wed
Thu
Fri
Sat
Sun
03
4
5
6
7
8
9
10
11
12
13
14
15
16
17
18
19
20
21
22
23
24
25
26
27
28
29
30
31
1
2
Venue details
Tall women standing. Tall women speaking. Tall women eating. Tall women dancing. Tall women in love. Tall women in heels. Tall women in clogs. Fresh from a sold-out New York run, four Brooklyn broads tackle gender politics and awkward footwear from their collective height of 29 feet and 1/4 inches. Making heartfelt and hilarious use of dance, text, music, video, and the occasional well-placed kick line, they ask: how can we be women in heels and girls who refuse them? Is the answer, really, clogs?
Share this show
Reviews
Full press release
Playboy advice columnist Katherine Cooper, BAM special project producer Sophie Shackleton, actress Madeline Wise, and choreographer Jess Goldschmidt join forces in a comedic variety show, one week only for the final days of the Edinburgh Fringe.
Described by The Huffington Post as a show that "busts stereotypes about height, gender, and more," and dubbed by audiences as a hybrid of "a Spice Girls concert and a drag show and a feminist text," Tall Women in Clogs is a brassy-yet-artful send-up of the expectations we hold for bodies--what they are capable of, what they should look like, how big or tall they are--from four 20-something women who take up more space than average.
A sold-out hit in New York, these four Brooklyn broads tackle gender politics and awkward footwear in the 2015 Edinburgh Fringe Festival from their collective height of 29 feet and 1/4 inches (give or take), making heartfelt and hilarious use of dance, text, music, video, and the occasional well-placed kick line.
A Kickstarter staff pick, the four women raised $9000 in less than a week with the description: "You grow up tall in America, people think you're older than you are. People think you're stronger, tougher, more mannish than you feel. People think you are more sexual or less sexual or not sexual at all. People think you eat more than a woman should eat. The expectation and the reality of us do not align. Or sometimes they do. It's complicated."
About the Artists
Katherine Cooper has written for Playboy, BOMB magazine and Women and Performance Journal, among others. At Playboy, she writes the weekly column "Just The Tips", which takes a modern and heartfelt standpoint on manners, mores, and ethics of sex, love, and dating. She has been featured in The Washington Post and The Boston Globe. Katherine holds a Masters Degree from NYU in Performance Studies, has curated an academic lecture series and makes drag videos in her bathroom. Her experience informs her writing on performance, love, and art in America. She has also worked as a high-end matchmaker, a job she got on Craigslist.
Jess Goldschmidt is a dance and theatre artist. Her choreography and performance work has been presented and developed at The Wild Project, New York Theatre Workshop, Center for Performance Research, Dixon Place, and clubs and venues around Brooklyn. Jess studied Literary Arts and Performance Studies at Brown University. Her plays include The Death Book (developed by Arena Stage & Open Fist Theater), Queensboro Dance Academy Presents a Concert at the Greenwood Center for Senior Care (finalist for the Clubbed Thumb Biennial Commission), and The Snow Queen: A Fairy Tale (Abrons Art Center commission). She is a member of Clubbed Thumb's Emerging Writer's Group and a 2014 Millay Colony.
Sophie Shackleton is a producer of international performing arts. She works at BAM (Brooklyn Academy of Music) as Project Manager of DanceMotion USA, a cultural diplomacy partnership with the US Department of State, facilitating international exchanges in contemporary dance and special global initiatives with artists. She has a special interest in work from Muslim Africa, and prior to BAM, worked for three years with musicians and dancers in Bamako, Mali. She has worked on artistic projects with nearly 40 countries across the Western and non-Western world. She begins graduate school at SOAS University of London this September.
Madeline Wise is an actor and co-founder of New Saloon Theater, a company hailed by CultureBot as an "emerging wunderkind terrible." She's best known for playing Lisa in Adam Goldman's acclaimed web show Whatever this is.; her performance was nominated for a faux-Emmy by the Boston Globe. In New York, Madeline has been in performances and readings at Playwrights Horizons, the Lark, LaMaMa ETC, the Invisible Dog, Clubbed Thumb, Dixon Place, JACK, the Tank, the Drama League, Playwrights Realm, and the Parrish Art Museum in Water Mill. Film performances include Peacekeepers and The Loneliest, sponsored by the Alfred P. Sloan Foundation. Madeline studied at the London Academy of Music and Dramatic Art and at Bard College.
---
Credits
Tweets by TheTallWomen