Tez Ilyas
Tez Ilyas: TEZ Talks
Stand-up
7:15pm (1 hour)
5-16 & 18-30 Aug 2015
10 - 12
This is a 2015 show that has now finished.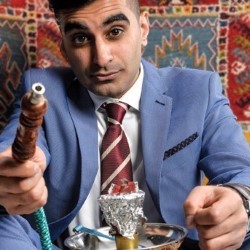 Show details
Stand-up show starring Tez Ilyas performed on the following days in August 2015...
Mon
Tue
Wed
Thu
Fri
Sat
Sun
03
4
5
6
7
8
9
10
11
12
13
14
15
16
17
18
19
20
21
22
23
24
25
26
27
28
29
30
31
1
2
Venue details
The highly anticipated debut show from Leicester Mercury New Comedian of the Year nominee and BBC New Comedy Award finalist. With his sharp wit and charmingly cheeky onstage persona, Tez Ilyas is one of the hottest rising stars on the circuit. Join Tez as he leads you on a truly unique journey through this silly, smart and subversive take on life in his Britain. As heard on BBC Radio 4's The Now Show and star of The Pleasance's Comedy Reserve. 'Sartorially stylish and winningly cheeky' (Chortle.co.uk). 'The hilarious Tez had the crowd in stitches' ***** (WhatsOnStage.com).
Share this show
Reviews
Press coverage
Full press release
Sharp suited Tez Ilyas is BNP through and through - a British National Pakistani of course! For his highly anticipated debut show - TEZ Talks - he will endow his audience as potential converts to Islam who have just completed a 'Conversion to Islam' course... yes really!
Recognising it can be hard being Muslim in contemporary Britain, Tez is adamant that new British Muslims, or Muslims 2.0, don't make the same pitfalls that native British Muslims, like him, have done. Presenting this bonus module centred on integration, it's Tez's hope that his new 'brother and sisters' will be able to use his teachings to become fully integrated citizens. This includes upholding British values (whatever those are!), Muslim dating tips and the importance of keeping it halal!
Things won't all be easy though, as Tez confronts some of the most challenging issues before the final conversion. Haven't Muslims been responsible for some horrific actions around the globe? What about the vitriolic Islamophobia? Tez questions why anyone would even want to convert to Islam at all... Sure it's a gateway to a fascinating culture, people - and eventually paradise - but still, is all the hardship worth it?! Through this truly bold show Tez leads you (his congregation) on a hilariously unique journey through silly, smart and subversive takes on life in his Britain.
"Islam is the greatest force for evil in the world today" said hugely influential scientist and pop-philosopher Richard Dawkins. Tez confronts the possible conclusion that if Islam is evil, then that must make its people inherently evil too... Brothers and sisters, welcome to Islam. Good luck.
Lancashire born Tez Ilyas started comedy in 2010, hitting the ground running he found himself in no less than eight competition finals! These included the prestigious BBC New Comedy Award and Leicester Mercury New Comedian of the Year. Since then Tez has risen up the ranks at lightening speed and in 2013 he was selected for the much-coveted month long Pleasance showcase The Comedy Reserve. With his sharp wit and charmingly cheeky onstage persona, Tez is one of the hottest rising stars on the circuit and is thrilled to be taking his debut hour to the Pleasance Courtyard for this year's Edinburgh Fringe Festival.