Tats Nkonzo
Tats Nkonzo: The African With Wifi
Stand-up
9:30pm & other times, see below (1 hour)
5-16 & 18-31 Aug 2015
Pleasance Courtyard & other venues, see below
8 - 10.50
This is a 2015 show that has now finished.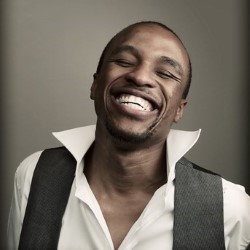 Show details
Stand-up show starring Tats Nkonzo performed on the following days in August 2015...
Mon
Tue
Wed
Thu
Fri
Sat
Sun
03
4
5
6
7
8
9
10
11
12
13
14
15
16
17
18
19
20
21
22
23
24
25
26
27
28
29
30
31
1
2
Days marked with a + indicate multiple performances.
Differing performance details
Venue details
'One of the best acts to happen to South African comedy' (Argus). 'I wrote this show so I could tell the world how Simba really felt after Mufasa's death. The people deserve to know the truth' (Tats Nkonzo). Fresh from the Ebola ward (joking), and now performing his UK and Edinburgh debut (not joking), Tats Nkonzo: The African With Wifi will have you laughing whilst changing your perspective on everything you thought you knew about the continent of Africa. And yes, there's wifi. Unlimited.
Share this show
Reviews
Press coverage
Full press release
Let's face it, so far most of the big names and loud voices in comedy have come from the so dubbed 'first world'. Tats' 2015 Edinburgh debut throws something totally fresh into that mix, ruthlessly getting under the skin of his beloved nation and tackling social issues with uncompromising yet hilarious stand-up. Hold onto your received opinion and social norms - Tats is about to flip them upside down, shake 'em about and rearrange them...
From ancestors and animal rights to protests and world peace, The African With Wifi will funk up what you think you know about a continent consistently misrepresented in Western media. Tats goes so far as to offer up his own, albeit unconventional, solutions to nation building in South Africa. How about a sex strike to improve government services or disease songs to curb the spread of illness?
Tats' UK debut show is an exciting opportunity to see a comic at the top of his game, from a country where the comedy scene is yet to gain international attention. It is also the latest offering in Mick Perrin's 'Comedy Sans Frontiers' revolution, which holds that humour is universal and champions foreign stand-up. The Comedy Sans Frontiers gig was a major highlight of last year's Edinburgh festival, and the show has since travelled to Berlin and Moscow.