Supertown
Supertown
Musical
3:55pm (85 mins)
17-22 & 24-29 Aug 2015
6.50 - 9
This is a 2015 show that has now finished.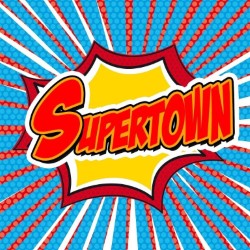 Show details
Musical performed on the following days in August 2015...
Mon
Tue
Wed
Thu
Fri
Sat
Sun
03
4
5
6
7
8
9
10
11
12
13
14
15
16
17
18
19
20
21
22
23
24
25
26
27
28
29
30
31
1
2
Venue details
Hot on the heels of its successful run of previews in Leeds in 2014 comes Supertown, the must-see brand new comedy musical! Set in Supertown, a town full of superheroes, one ordinary man sets out to prove that the town's favourite hero Thunderman may not be all that he seems and that ultimately you don't need superpowers to be a hero. After incredibly well received previews at the Carriageworks Theatre in Leeds, this hilarious new musical will delight everyone. With colourful characters, catchy tunes and wry lyrics, this is not one to miss.
Share this show
Reviews
Full press release
'You don't need Superpowers to be a Hero'
Hot on the heels of its successful World Premiere production by the award-winning LIDOS in Leeds 2014 comes Supertown, the must-see brand new comedy musical.
The People of Supertown are protected on a daily basis from ruthless and evil Super villains, by brave and powerful Superheroes, who fight for them day-in and day-out to ensure that they're all safe and free. But not everyone in Supertown is happy about that... For Ste (a normal), these Superheros are just an annoyingly arrogant bunch of people who are ruining his chance for romance with the beautiful Sally.
Ste's contempt for Superheroes, and in particular the town's Heartthrob Thunderman, leads to an unlikely teaming up between him and Zapper - the worst hero in town, to remove Thunderman from his pedestal. However their quest lands them embroiled in a plot far darker than they'd imagined, and soon they're fighting to protect the safety and freedom of everyone in Supertown, and in doing so, prove you don't need Superpowers to be a hero!
Supertown is a funny feel good musical full of catchy tunes, hilarious characters and with up-beat positive messages (plus lots of Superheroes in spandex). Written by Leeds based duo James Sidgwick and Robert Sanders the show was premiered in Leeds Carriage works Theatre in September 2014, the show was invited to brush off its cape and put on a special performance for the NODA Northeast annual conference in April 2015.
We have had to raise a lot of money to bring the show to the fringe this year and so the cast have all taken on a 'Super challenge' as a team of 16 (15 cast plus 1 musician), we have pledged to run, swim or walk the 350km distance from The Carriage works Theatre in Leeds (Where Supertown staged its world premier) to TheSpaceUK Venue 45 in Edinburgh in two weeks. The money raised will be split evenly between our fringe fund and the charity 'Help the Heroes' who provide amazing support for the real Heroes of this country. We're really excited that this ambitious undertaking will not only help us get our show to Edinburgh, but also help support them in their work.
---
Tweets by SupertownShow