St George Medics Revue
The NHS: Don't Ask, It's Private
Sketch show
7:35pm (50 mins)
10-15 Aug 2015
5 - 7.50
This is a 2015 show that has now finished.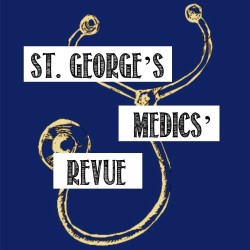 Show details
Sketch show performed on the following days in August 2015...
Mon
Tue
Wed
Thu
Fri
Sat
Sun
03
4
5
6
7
8
9
10
11
12
13
14
15
16
17
18
19
20
21
22
23
24
25
26
27
28
29
30
31
1
2
Venue details
A fast-paced, irreverent, comedy sketch show from the worryingly funny doctors of tomorrow. Some of the less competent amongst them might split your sides, but relax - they'll soon have you in stitches.
Share this show
Press coverage
Tweets by SGULRevue
Visitor reviews

McDonald G M
For a start this site won't let me erase the stars. This show was absolutely appalling and the worst event I have seen over the last eight years I have been attending the fringe. Given that those involved are medical students at St George's I assumed a prerequisite of intellect and awareness and thus expected a clever use of interesting material and stimulating delivery. Given the current climate of economical constraints and the general public's concern for the future of our NHS this subject would seem to offer wide scope for theatrical exploitation and rhetoric. Sadly and disappointingly even the slightest modicum of wit and talent was missing. I consider that watching this show for the ten minutes or so before my friends and I walked out a complete waste of our time a n d the fact that we had actually paid for the privilege added insult to injury.
S Jackson
Well I have no idea what the person above is talking about we all thoroughly enjoyed the show. The sketches were absolutely hilarious and very well performed. We saw the show last year and decided to come again this year and so pleased we did. Well Done to everyone it was brilliant, brilliant brilliant
Benji
Dear Old Sad Man from above, Oh O.S.M! Thanks for seeing the show! We'll be so happy to put the wonderful review you've given us on our publicity next year ("Interllect and awareness... interesting material and stimulating delivery" 5 stars- Comedy.co.uk). Although I don't doubt for a second that you loved our show (your review makes this perfectly clear) I wonder if there was a slight undertone of upset in your wording. Let me help you, I played to your seat every night and you were the only person who didn't laugh. I've never seen a less generous audience member in eight years of performing. I don't know who hurt you O.S.M. but it wasn't me. Looking into your off-milk expression, a sad decrepit ghost at the feast, was only saved by the fact that when you left (two thirds of the way through the show) the entire room picked up and we all had a great time. You then proceeded to ask for a refund to a student show (that you got a concession for!) and was rightly shown the door. Anyway, O.S.M. you'll be glad to know that thanks to you we've sold out again this run, that's one sell out year for every star you given us! For anyone else reading this expecting a review of our show, it's a sketch show based on our frustration with changes made to the NHS, it incorporates satire, alternative comedy, some dark comedy (the essence of medical humour) and a few musical numbers including a rendition of I like big butts (over your head O.S.M.?) to Nessun Dorma. A lot of people laughed including Paul Sinha and Mike Wozniak (award nominated comedians). Anyway, give us a buzz on Facebook and we'll set you up with a free ticket in London, that way you can decide for yourself. Lots of love, St. George's Medics' Revue (Currently dining on your money O.S.M.)
jdelgado
An amazing show and one of my personal favourites from my time at the Fringe. Witty, topical and down-right hilarious!! Personal favourites included the evangelical faith healer, Nessun Dorma- I Like Big Butts performance (which had me in stitches) and the crazed hand-puppet! An excellent show and I look forward to seeing more from this talented group of comedians in the near future! FANTASTIC!