Sophie Rose
Quiet Violence
Theatre
1:45pm (55 mins)
16-30 Aug 2015
7 - 8
This is a 2015 show that has now finished.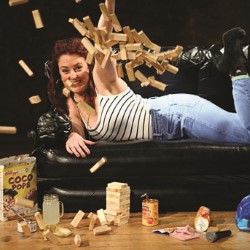 Show details
Theatre starring Sophie Rose performed on the following days in August 2015...
Mon
Tue
Wed
Thu
Fri
Sat
Sun
03
4
5
6
7
8
9
10
11
12
13
14
15
16
17
18
19
20
21
22
23
24
25
26
27
28
29
30
31
1
2
Venue details
A show about blue plastic bags and wearing shoes that fit. Squeezed between tight jeans, jengablock flats and dinosaur ham, a young woman is making bad decisions and an old man is eating too much cheese. They're sharing biscuits on an inflatable sofa: something has to pop. Fast, physical and full of anarchic poetry, shards of life collide in this powerful story of punishment and rescue. Free hobnobs. An exciting new female voice in spoken word theatre, co-produced by Roundhouse. 'Bold, brave and very special' (Polarbear). 'Evocative, unflinching and very funny' (James Grieve, Paines Plough).
Share this show
Reviews
Full press release
Not so long ago, I found myself on a dance floor wearing jeans that were too tight and heels that were too high, dancing with someone I didn't really like. Again.
Why do I do this? I thought.
I really want to stop doing this.
So I kissed him.
Then (after a few more packets of hobnobs) I began to write this show.
It started as a list in my notebook of all the small things I do to make life harder for myself - my 'quiet violences':
Choosing cheap loo roll; Wearing shoes that rub; Pretending I'm in love.
Then I noticed that the people around me were doing it too:
She's saying his name wrong but he doesn't correct her; He's holding his pee; She's eating cous cous- she hates cous cous.
So I started to ask people directly - what are your quiet violences? - and had some amazing responses, from people of all ages.
From these observations, contributions and re-imaginations of my own life came the piece Quiet Violence: A spoken word comedy show about a young woman making bad decisions and an old man eating too much cheese. They're sharing biscuits on an inflatable sofa; something has to pop.
Sophie Rose
Sophie Rose is a resident artist at the Roundhouse and has presented work with Battersea Arts Centre, Cambridge Junction and Jacksons Lane. Sophie pushes the potential of spoken word in a theatrical arena and is becoming known for her honest and playful storytelling that combines comedy, poetry and narrative. She enjoys finding the rhythm and poetry in the everyday.
Sophie is currently working on a new show, developed in the Soho Theatre Young Writer's Lab, whilst touring a collaborative spoken word show in association with Apples and Snakes.
Quiet Violence is Sophie's debut solo show co-produced by the Roundhouse and supported using public funding by Arts Council England. Following the run at the Edinburgh Fringe, Quiet Violence will embark on an autumn tour including performances at Bestival and Shoreditch Town Hall, London.