Steve N Allen
SomeNews: The Misstakes
Stand-up / Satire
7:15pm (1 hour)
6-30 Aug 2015
Free
This is a 2015 show that has now finished.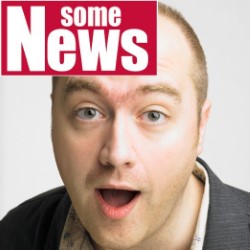 Show details
Stand-up show / satire starring Steve N Allen performed on the following days in August 2015...
Mon
Tue
Wed
Thu
Fri
Sat
Sun
03
4
5
6
7
8
9
10
11
12
13
14
15
16
17
18
19
20
21
22
23
24
25
26
27
28
29
30
31
1
2
Venue details
Don't learn from your mistakes, enjoy the mistakes of others. Join Mr Steve N Allen in a look at how people have messed up so badly it made the news. Companies mis-selling, accountants who can't add up and politicians who sext the wrong people, nobody is perfect but you'll leave this show feeling slightly more perfect in comparison. 'Biting satire' (ThreeWeeks). 'A tight, upbeat show that I would recommend going to see' (BroadwayBaby.com). 'Well informed wit' (Latest7). 'A performer with masses of talent' (FringeReview.co.uk).
Share this show
Full press release
Don't learn from your mistakes, enjoy the mistakes of others. Steve N Allen's Edinburgh show for 2015 is all about the mistakes that have been covered in the news. From companies miss-selling ("I tried sexting the other day. It's a great way to get the PPI people to leave me alone." ), accountants who can't add up ("I've been tweeting Tesco with all my receipts saying I know this won't fix all your accountancy issues, but every little helps." ) and politicians who sext the wrong people ("Poor Brooks Newmark. Sending nude pics doesn't affect how good you are at your job. I sent three before I started this show." ). No body is perfect but this show should leave people feeling slightly more perfect in comparison.
Each year the news addict Steve N Allen brings a different SomeNews live show to the Fringe. This year's offering is based on the Alexander Pope quote: "To err is human, to laugh at other people erring is even more so." That might not be the exact quote, but just chalk it up as another "misstake".
Stand-up comedian Steve N Allen started as a commercial radio DJ and it was there he became addicted to news. He turned that addiction into a website, podcast, mobile app and now a live comedy festival show. The SomeNews Live Show has been performed at the Manchester Comedy Festival, the Leicester Comedy Festival and the Brighton Fringe.
Steve N Allen
Mr Steve N Allen is a stand-up comedian and radio presenter who comes from Nottinghamshire, and actually started out as a chemist. It was through writing jokes for other radio presenters (and getting paid 50p per joke) that Steve got a chance to host his own shows.
Steve now performs as a stand-up in clubs across the UK. In 2010 Steve developed the SomeNews project that includes a website, a mobile phone app, and a podcast that has also been distributed on several internet radio stations. SomeNews is now a weekly show on Fubar Radio. The SomeNews project turned into a live show seen at comedy festivals across the UK and forms part of a weekly comedy night in London.
---
Tweets by mrstevenallen