Shaun Buswell
Shaun Buswell's Random Orchestra Challenges
Music / Storytelling
8:45pm (1 hour)
8-29 Aug 2015
Free
This is a 2015 show that has now finished.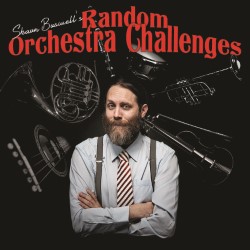 Show details
Music / storytelling starring Shaun Buswell performed on the following days in August 2015...
Mon
Tue
Wed
Thu
Fri
Sat
Sun
03
4
5
6
7
8
9
10
11
12
13
14
15
16
17
18
19
20
21
22
23
24
25
26
27
28
29
30
31
1
2
Venue details
Shaun Buswell likes a challenge. He's attempted to form orchestras made up of musicians he meets randomly as strangers on the London Underground and at the Edinburgh Festival. He's now been travelling around the UK trying to convince strangers to join him. This is the story of Shaun's journey told using words, videos and song, followed by a one-off concert that will explain how and why he creates these moments of interactive pop-up music.
Share this show
Press coverage
Full press release
'Make an orchestra from strangers you meet on the London Underground' they said
'It will be fun' they said
Make an orchestra from strangers in 9 days at the Edinburgh Festival Fringe' they said
'It will be amazing' they said
'Make a music video from strangers that are buskers' Decca Records said
'You can do it' they said
'Make a pop-up orchestra from strangers at Glastonbury festival and perform 5 times' they said
'It will be awesome' they said
WAS IT? Was it fun? Was it amazing? Did he do it? Was it awesome?
There's only one way to find out. Shaun Buswell is bringing his Random Orchestra Challenges show to Edinburgh Festival Fringe. A funny, heart-warming story presentation about the kindness of strangers, and the ability to achieve anything if you set your heart on it.
Shaun Buswell started his challenges with the "Underground Orchestra Challenge" on the London Underground on 1st January 2012, with the goal of creating an Orchestra made up of musicians he met as strangers amongst the daily mayhem of travelling on the London tube. He spent a year doing it, resulting in a final performance with a full orchestra at the O2 Shepherd's Bush Empire. Since then he has attempted numerous other challenges, including creating a music video for a chart-topping act for Decca Records, a challenge at Glastonbury festival and even a challenge at last years Edinburgh Festival Fringe.
After last years highly successful run at the Edinburgh Festival Fringe, performing to full houses, Shaun's show has been selected for the second year running by PBH Free Fringe. This year sees Shaun delivering an amusing and inspiring presentation taking listeners on an emotional journey through the trials of his various orchestra challenges, finally explaining why & how he does what he does, and why he looks like a tramp. Facilitated by documentary footage, film of live musical performances, video diary clips, projected presentations and a hoard of humorous anecdotes, Shaun's Dave Gorman-esque account of his experiences culminates with a special pop-up concert at the end of each show, from various musicians that he's gathered for one night only.
Shaun says "I'm can't wait to bring my show back to Edinburgh, I had an incredible journey in 2012 and its great to tell the story of the 'Tube Orchestra' but of course it didn't end there. For 2015 my Edinburgh show includes all the highs and lows of creating an Edinburgh Festival Fringe Orchestra last year, carrying out a busking challenge for Decca Records and bringing The Pilton Pop-Up orchestra together 5 times at this years Glastonbury festival. So many musicians, so many stories, so many challenges to overcome.
"During the challenges I've had to face some real lows like quitting my job, problems with funding, to highs such as playing on the London Eye, the orchestra appearing on BBC TV and in worldwide press. It still amazes me that random strangers were kind enough to stop and talk to me and that's why I am going to attempt another challenge a the end of each of my shows at the Edinburgh Festival Fringe this year, musicians I'll be looking for you!"
---
Tweets by underorchestra