Seymour Stiffs
Seymour Stiffs - The Undertaker
Stand-up
10:45pm (1 hour)
8-9, 11-16, 18-23 & 25-29 Aug 2015
Free
This is a 2015 show that has now finished.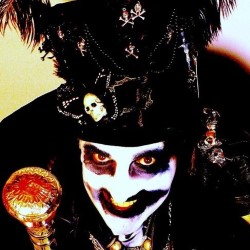 The listing for this show in the printed programme is wrong. The following details are more likely to be correct, but we suggest you independently check.
Show details
Stand-up show starring Seymour Stiffs performed on the following days in August 2015...
Mon
Tue
Wed
Thu
Fri
Sat
Sun
03
4
5
6
7
8
9
10
11
12
13
14
15
16
17
18
19
20
21
22
23
24
25
26
27
28
29
30
31
1
2
Venue details
Seymour Stiffs, The Undertaker, invites you into his chapel of unrest. From out of the darkness this minister of mirth, mayhem and merriment emerges. Seymour delights in mocking, shocking and provoking mischievous thoughts about life and death. I am the jester, joker, the dark provoker. Seymour is energetic, physical and immersive. Out of seven billion people on this planet there is only one you, make your life count, live your life not someone else's. No one show is ever the same. 'Dead funny, highly humorous, cleverly scripted, this was comedy at its best' (Stratford Herald).
Share this show
Reviews
Video
---
Tweets by SeymourStiffs