Seda Yildiz & Mawaan Rizwan
This is a 2015 show that has now finished.
This show was cancelled.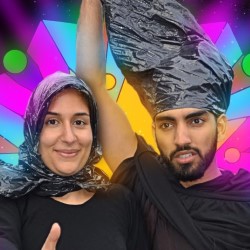 Seda Yildiz and Mawaan Rizwan bring their daring and surreal show to the Fringe. Adorned in black bin bags, these two irreverent idiots are in charge of leading very sacred and spiritual ceremonies at the renowned Haus of Chi-Chi... Using shamanistic rituals from the ancient land of Chi-Chi-stan, each show uniquely unravels itself using the contents of an audience member's handbag. It's so wrong ... in a good way.
Share this show
Credits