Sarah Blanc
It Started With Jason Donovan
Dance
8:45pm (1 hour)
19-27 Aug 2015
8 - 12
This is a 2015 show that has now finished.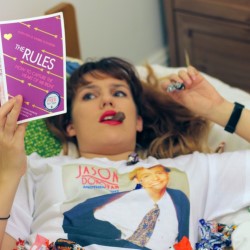 Show details
Dance starring Sarah Blanc performed on the following days in August 2015...
Mon
Tue
Wed
Thu
Fri
Sat
Sun
03
4
5
6
7
8
9
10
11
12
13
14
15
16
17
18
19
20
21
22
23
24
25
26
27
28
29
30
31
1
2
Venue details
Brochure note
This show was not listed in the official Fringe programme so you may not find details elsewhere.
'This is a piece told with such brutal honesty that many wept with laughter.' (Vikki Vile). Especially for you, Sarah Blanc recounts her past dating life through the songs of her first love - Jason Donovan. Presented in a lecture-style format, alongside a cardboard cut-out Jason, she offers important life lessons for those with too many broken hearts, through dance, theatre, comedy and a whole lot of lycra. Not to be missed if you need help to hang on to your love: with Sarah to guide us, nothing can divide us!
Share this show
Full press release
It Started With Jason Donovan
This is my first solo show.
It Started With Jason Donovan takes a look at my past dating life using the songs of my first love Jason Donovan. Mixing dance, theatre and comedy, and presented in a lecture style format; my life size cardborard cut out of Jason and I aim to help all of you hopeless daters who have been messed around by the lyrics of your late 80s/early 90s pop idols.
The piece was first created and presented as a 24 minute piece for The Place's emerging choreographer's platform Resolution! in February 2014, where it received fantastic audience and press reception along with gaining development support from The Place. Since Resolution! I've performed an extract of the show at Dancebase as part of Heads Up! at Edinburgh Fringe Festival 2014.
I am now developing the show with a great team of mentors including Bryony Kimmings and Aletta Collins.
The development is being supported by IdeasTap Accelerator Crowdfunding (and all our pledgers) and The Place.
The show will tour to Edinburgh Fringe 2015 at New Town Theatre (Magic) from 19th -27th August
---
Tweets by sarahblanc