Sandra Thomas
Macaroni on a Hotdog
Theatre
11:35am (50 mins)
7-8, 10-15, 17-22 & 24-29 Aug 2015
4 - 8
This is a 2015 show that has now finished.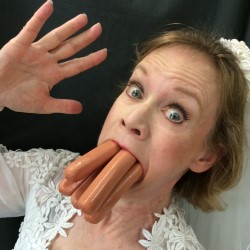 Show details
Theatre starring Sandra Thomas performed on the following days in August 2015...
Mon
Tue
Wed
Thu
Fri
Sat
Sun
03
4
5
6
7
8
9
10
11
12
13
14
15
16
17
18
19
20
21
22
23
24
25
26
27
28
29
30
31
1
2
Venue details
Everyone has a wedding disaster story, this family has 50. Inspired by true events, one actor plays six characters in this cringeworthy one act. Weenies, weddings and wipeout! The fun in this family is in the dysfunction. A sell-out, top 10 show at its debut in the Minnesota Fringe, reviewers judged it a must-see. One actor, six characters and lots of laughs. Five-star reviews for Sandra Thomas's last appearance in the Edinburgh Festival Fringe, (The Property Known as Garland, 2012).
Share this show
Reviews
Full press release
Filled with hotdish, sweater-vests, vegans and more. From the heart of Minnesota emerges a painfully funny story as one woman plays 6 hilarious characters in 2 different decades. These cringe-worthy scenes based on real life events will make you glad you're not related to this family.
A trip to the thrift shop led to a trip to Scotland. An impulsively bought 15 dollar wedding dress is now making its way to the other side of the world as a part of a Fringe show. Sandy knew she'd have to justify the dress's existence in her crowded house, so she wrote a humorous monologue featuring "the dress", which evolved into a full length Fringe Show. Follow the Sandy Thomas blog on the Huffington Post!
Macaroni on a Hotdog was among the top 10 shows at the Minnesota Fringe Festival, playing to sold-out houses and even called a "Must See" by the Pioneer Press. After a successful run at the Minnesota Fringe, Sandra toured the across the Midwest.
Sandra is a return performer to the Edinburgh Fringe, having brought Billy Van Zandt's The Property Known As Garland in 2012. The Garland show had the distinction of being named as one of the Top 75 shows of the Fringe (Tick it).
---
Tweets by macaroni_hotdog