Scary Little Girls
Salon du Chocolat
Variety
6:25pm (1 hour)
8-18 Aug 2015
Free
This is a 2015 show that has now finished.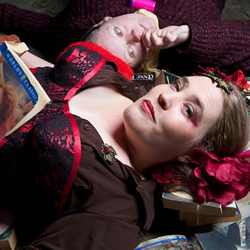 Show details
Variety starring Rebecca Mordan performed on the following days in August 2015...
Mon
Tue
Wed
Thu
Fri
Sat
Sun
03
4
5
6
7
8
9
10
11
12
13
14
15
16
17
18
19
20
21
22
23
24
25
26
27
28
29
30
31
1
2
Venue details
Brochure note
This show was not listed in the official Fringe programme so you may not find details elsewhere.
Storytelling cabaret, created with Oxford Playhouse: Scary Little Girls stimulate your senses while celebrating the relationship between cocoa nibs and forbidden literature! Chocolate treats and scandalous tales from authors including Radclyffe Hall, D.H Lawrence, Joanne Harris and Lord Byron - "Wonderfully risque and fascinating, wound together charmingly by Scary Little Girls" Oxford Mail.
Share this show
Full press release
Sex... Stories... Chocolate: Salon du Chocolat, guaranteed to indulge all your senses.
Fringe favourites Scary Little Girls have done it again with the only show in town that promises to deliver on all our guilty pleasures.
Enter their Salon du Chocolat at the fabulous Voodoo Rooms Ballroom and you're instantly back in an era where eating chocolate was considered highly risqué. A time when the wealthy and elite would meet covertly to indulge their cocoa cravings... while being titillated by readings of the era's "romantic" writers.
Follow your passions, like them, through a decadent and slightly dangerous evening in the company of the delectable Rebecca Mordan and her louche ensemble as they tease and tantalise their way through some of literatures' sexiest stories calling upon writers as diverse as Radclyffe Hall, D.H Lawrence, Joanne Harris and Angela Carter.
With music.
With chocolate.
... plus a massive helping of spice as Ms Mordan takes you on a journey of discovery (taking in so many of the things your mother never told you about because she never knew about them herself).
Scandalising every bit as much as she seduces, you'll find Rebecca the perfect host with a wicked singing voice and a sublime sense of humour.
Lick your lips... laugh and gasp your way through an hour of unfettered pleasure that will pitch you blinking onto the streets by 7.30 - in plenty of time for your big night on the Fringe.
Scary Little Girls
Scary Little Girls Productions is an innovative production hub based in Cornwall and London, which tours nationwide.
The current Salon du Chocolat was created in association with the Oxford Playhouse as part of its Radical Thinkers season.
Scary Little Girls stormed the Edinburgh Festival in 2013 with The Full Brontë and, by popular demand, recently performed at the Brighton Fringe Festival for a second year. Last summer, its unique Living Literature Walks were hailed in the Independent's "Everybody's Talking About" feature.
Scary Little Girls has attracted national attention for its many sell-out shows, which include The Kisses, Maria Stuart, Ladies Cage and The Riot Showgrrrls Club.
As well as its creative projects, the company also runs Wild Woman's Hour, a radio project that won three national awards in its first year, including one from the European Social Forum and one from the BBC. WWH allows survivors of domestic violence in Cornwall to make their own monthly magazine show and trains them in journalism, public speaking, interview techniques, editing, IT and creative writing.