Rum & Monkey Productions
Angelus
Theatre
4:45pm (1 hour)
11-15 Aug 2015
7 - 8
This is a 2015 show that has now finished.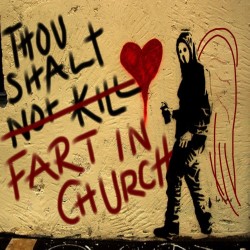 Show details
Theatre performed on the following days in August 2015...
Contains flashing lights.
Mon
Tue
Wed
Thu
Fri
Sat
Sun
03
4
5
6
7
8
9
10
11
12
13
14
15
16
17
18
19
20
21
22
23
24
25
26
27
28
29
30
31
1
2
Venue details
Having stolen something precious, two angels go on the run from God in order to take rules into their own hands. Finding the Ten Commandments, the angels begin to edit the rules to suit themselves, but with hilarious and catastrophic consequences. Arriving in an unknown location and being forced to bargain with a filth-encrusted pervert, Angelus is an extraordinary dark comedy that pushes the boundary between faith and anarchy.
Share this show
Reviews
Tweets by AngelusPlay
Visitor reviews

Ken Robertson
I caught this amazing show, pre-Edinburgh and recommend it highly. It is funny, fast, furious and fantastical. A great concept by the highly original creator/writer of the show, Caitlin Innes Edwards and supported, with gusto, by a trio of great actors. This is certainly a five star show. Do not miss the fun and the mayhem that is ANGELUS.