Ruaraidh Murray
Allie
Theatre
5pm (1 hour)
5-31 Aug 2015
10.50 - 12.50
This is a 2015 show that has now finished.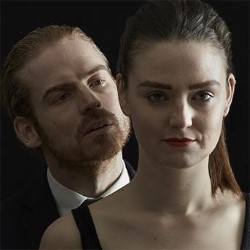 Mon
Tue
Wed
Thu
Fri
Sat
Sun
03
4
5
6
7
8
9
10
11
12
13
14
15
16
17
18
19
20
21
22
23
24
25
26
27
28
29
30
31
1
2
Venue details
Revenge is best served radge! A new dark comedy from the creator of critically acclaimed shows Big Sean, Mikey and Me, Bath Time and Boxman. 'Quentin Tarantino meets Irvine Welsh. Very funny' **** (Scotsman). 'Firecracker of a show' **** (Herald). 'Murray's bravura performance' **** (Metro). 'Phenomenal. Must see!' **** (Stage).
Share this show
Reviews
Press coverage
Full press release
ALLIE, a new dark comedy written and performed by Edinburgh born actor Ruaraidh Murray, will be Murray's first ever two-hander alongside Edinburgh born actress Megan Shandley.
This appearance follows his previous sell-out runs at the festival with Boxman (2014), Bath Time (2013) and Big Sean, Mikey and Me (2012) which all received 5 star reviews.
15-year-old Allie is a young, pimple-popping Edinburgh lass who collects wooden animal figurines and likes to chase bad boys. When she meets the silver-tongued gangster Bobby Warren, a girl's wet dream turns into a woman's bloodstained nightmare. After years of being caught in Bobby's twisted spider web Allie is all grown up and is now out to wreak vengeance on the man who stole her dreams.
Megan Shandley
Megan Shandley, from Barnton in Edinburgh, graduated from LAMDA last year, where she worked with Max Stafford-Clark among other well established directors. Immediately after graduating she filmed the short film State Zero, which is to become a full-length feature. She writes and performs stand-up and sketch comedy, as well as being part of The Comedian's Cinema Club.
Ruaraidh Murray
Ruaraidh Murray was born and raised in Stockbridge in Edinburgh and went on to study acting at The Oxford School of Drama. He was a member of the Traverse Theatre and Royal Court Theatre young writers groups and his theatre acting credits include the 10 year stage revival of Irvine Welsh's Trainspotting (No.1 UK Tour), Tom Kempinski's High Jumpers (New End Theatre) and Jimmy Barr's Disintegration and We're All Doing Time (Union Theatre).
In 2013, the Gilded Balloon co-produced the Scottish tour of Big Sean, Mikey and Me and Ruaraidh and the director Paul Robinson are currently in development of the feature film script. Having performed Big Sean, Mikey and Me at the Vault Festival 2015 in London this February, Ruaraidh has been commissioned to adapt all of his one man shows for radio (Big Sean, Mikey and Me, Bath Time and Boxman) which he will perform live this summer on Soho Radio, London in the run up to Edinburgh Festival Fringe 2015.
Ruaraidh's film and TV acting credits include: Richard Jobson's feature film New Town Killers, Irvine Welsh's film The Bedroom Secrets of the Master Chefs, BBC's Sea of Souls, Dalziel and Pascoe, ITV's Lenny Blue, C4's Sword of Honour, and Bob Servant Independent, the BBC4 comedy starring Brian Cox.
Ruaraidh has a starring role in the new British feature film Night Bus which, was officially selected for the BFI Film Festival 2014. He had a guest role in Tom Fontana's Borgia Season 3, recently aired on Netflix.
Tim Stark
Director Tim Stark is a winner of the John S. Cohen Directors Bursary at the National Theatre Studio and English Touring Theatre, a founding member of B29 Productions and Artistic Associate of ANGLE Theatre. Recent directing credits include Robert Holman's critically acclaimed Jonah and Otto (Park Theatre), Pablo Neruda by David Eldridge as part of Surprise Theatre season (Royal Court Theatre), Khadija is 18 (Finborough Theatre) Critics Choice; The Times, The Evening Standard and Time Out; Once and Future Plays, five short new plays by Philip Ridley, Mark Ravenhill, Dominic Francis, Judith Johnson and Nick Drake (Site Specific), Kurt and Sid (Trafalgar Studios), The Last Pilgrim (White Bear Theatre), Road (Royal and Derngate Theatre, Northampton), Rafts and Dreams and Mayhem (Royal Exchange Theatre, Manchester), Festen (Birmingham Rep and National Tour), and Edward Bond's Lear (National Theatre Studio and Teatro Due International Theatre Festival).
---
Credits
Tweets by ruaraidhmurray1