Rory McSwiggan
Rory McSwiggan Wants Nothing to Do With Himself
Stand-up
8:45pm (1 hour)
6-11, 13-15 & 23-30 Aug 2015
Free
This is a 2015 show that has now finished.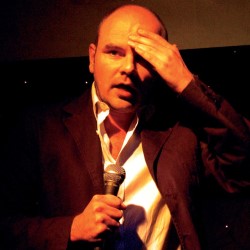 Show details
Stand-up show starring Rory McSwiggan performed on the following days in August 2015...
Mon
Tue
Wed
Thu
Fri
Sat
Sun
03
4
5
6
7
8
9
10
11
12
13
14
15
16
17
18
19
20
21
22
23
24
25
26
27
28
29
30
31
1
2
Venue details
His parents and teachers told him it was rude to brag about giving money to charity or saving children from drowning. But Rory grew up to find that nobody else, especially people born after 1987, thought or acted in this way. He set about telling stories that inadvertently related to his life, in a stand-up comedy format. You may be able to relate. 'Bloody good comedian' (Hobgoblin Comedy). 'A wonderful way with words' (Voicebox Comedy, Belfast).
Share this show
Reviews
Full press release
A warm, outgoing and friendly comedian who in real life is none of these things. Rory McSwiggan brings his first stand-up comedy show to Edinburgh Fringe.
For thirteen years, Rory McSwiggan made other people look good as an editor at the back end of showbiz. Now, TV is finished and the confessional YouTube generation have come to the fore. McSwiggan's a middle class, gay catholic from Northern Ireland so doesn't feel comfortable talking about self harm, depression and nail art. But he'd still like to make you laugh.
He trades his cutting room for a cutting edge in a series of bittersweet yet humorous ruminations, examining the absurdities of technology, war and sweets, bad acting and whether Sophia Loren or Judy Garland had the right idea.
Deep, daring and downright hilarious, Rory McSwiggan's very first Edinburgh Fringe Comedy Show is not to be missed.
Rory McSwiggan has been performing for over 10 years, starting with James King on the streets of Derry, moving on to Action Theatre and comedy improvisation. He started stand-up in 2011 at Edinburgh Fringe. He has performed with Bec Hill, John Colleary, Fred Cooke, Al Porter and appeared on BBC Radio as a reviewer and contributor. In 2014 he competed with over 200 comedians from across the UK in the Hobgoblin Comedy Award and was picked as one of 21 'bloody good comics' by the judges.
Rory will be taking a break from his own show to perform with Barbed from 16-22nd of August. "A smorgasobord of Performance Art, Action Theatre and Spoken word." In the same venue at 8.45pm.
On 23 and 24 August, Rory will introduce special guest performance artist James King. King is an avant-garde performance artist. He has attracted crowds across UK and Europe for his unique style. His performances are organic with the audience as a witness to the transformative experience of the performer.
---
Tweets by roryms