The Final Act
The Final Act
Musical
5pm (50 mins)
7-8, 10-15 & 17-29 Aug 2015
7 - 8
This is a 2015 show that has now finished.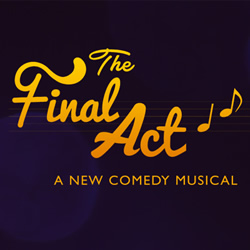 Mon
Tue
Wed
Thu
Fri
Sat
Sun
03
4
5
6
7
8
9
10
11
12
13
14
15
16
17
18
19
20
21
22
23
24
25
26
27
28
29
30
31
1
2
Venue details
Given one last chance to save their theatre society, an eccentric creative team must stage a spectacular sell-out show. There's only one problem: it must be a musical! Following a hugely successful debut last year, RopeWalk Productions bring you this hilarious, timely story of a theatrical battle for survival. Featuring a 'brilliantly written' original script and 'insanely catchy' music and lyrics, ***** (ImpactNottingham.com) this brand new comedy musical raises the curtain on backstage politics, inflated egos and, of course, the inevitable showmance.
Share this show
Reviews
Full press release
When the powers that be threaten to shut down their theatre, an eccentric creative team must produce a smash-hit show to prove their worth. This ambitious new musical featuring a cast of six complete with band makes its Edinburgh Fringe debut at theSpace @ Niddry St. With an original script, music & lyrics, hailed as 'brilliantly written and insanely catchy' (Impactnottingham.com) during the production's original Nottingham run in 2014, The Final Act is a fresh, exciting offering in the Fringe's musical programme this year.
Taking an irreverent look at the world of young theatre companies, The Final Act promises to raise the curtain on backstage politics, inflated egos and, of course, the inevitable showmance. 'There will be a lot of young companies in Edinburgh this August who will identify with our characters and their situation' says Producer Nick Stevenson. Having met at university, the founders of RopeWalk Productions have drawn on their own experiences in the often ridiculous world of student theatre in making the show. 'Responses have been amazing, with students and theatre folk, young and old, really connecting with it' says Stevenson.
But this is not just a show for students or industry insiders, says Director James McAndrew. 'The show is borne out of a real love for classic musical theatre styles and traditions, but ultimately it's our loveable and surprising characters that drive the whole thing. It's got a real feel-good charm that everyone will enjoy.'
'The show really tested Tom [Hicks, co-writer] and I as songwriters', says Composer Katherine Tye, 'as we've used a broad mix of styles - everything from tango to blues as well as both contemporary and classic musical theatre genres, giving the original songs a truly unique quality.'
An irreverent musical romp from an exciting group of young theatre makers, The Final Act is set to be an entertaining and memorable show; a perfect start to an evening at the Fringe.
Cast List
Rory - Lyle Fulton
Sarah - Laura Jayne Bateman
Victoria - Jemima Rathbone
Clive - Will Hedges
Bernie - Verity Spencer
Darius - Tom Hicks
Production Notes
RopeWalk Productions is a Nottingham-based company creating original, contemporary musicals.
Book, Music & Lyrics by Katherine Tye and Tom Hicks. Produced by Nick Stevenson. Directed by James McAndrew.
The show is Katherine Tye and Tom Hicks' first collaboration on an original piece of musical theatre, having previously worked extensively together on productions in Nottingham as Musical Director and actor, respectively. Nick Stevenson was President of The Nottingham New Theatre from 2013-14, and is currently a freelance Producer working in Manchester and Nottingham. James McAndrew previously directed at the Fringe with the highly acclaimed Wild West End (Paulden Hall Productions, Pleasance Queen Dome 2012), and is currently training on the Directors' course at Mountview Academy of Theatre Arts.
---
Credits
Tweets by FinalActFringe