Roland Gent
Rock 'N' Roll Radio Idiot (Free)
Stand-up
3:30pm (50 mins)
15-22 Aug 2015
Free
This is a 2015 show that has now finished.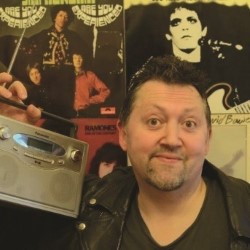 The listing for this show in the printed programme is wrong. The following details are more likely to be correct, but we suggest you independently check.
Show details
Stand-up show starring Roland Gent performed on the following days in August 2015...
Mon
Tue
Wed
Thu
Fri
Sat
Sun
03
4
5
6
7
8
9
10
11
12
13
14
15
16
17
18
19
20
21
22
23
24
25
26
27
28
29
30
31
1
2
Venue details
Would you quit your high flying sales job to run a radio station from a Portakabin in a high crime area? Will the station get burnt down by the local kids? Will anybody listen to a word the manager says? Why does the station's logo look like Rolf Harris? Tales from behind the microphone, including bizarre news stories, thieving local kids, mad music obsessions and reasons why radio used to rock but now sounds bland. Contains strong language. Not for fans of the X Factor. Music anoraks and vinyl junkies welcome.
Share this show
Reviews