Rob Thomas & Fran Garrity
The Clean (as Possible) Comedy Show
Stand-up
4:15pm (1 hour)
7-30 Aug 2015
Free
This is a 2015 show that has now finished.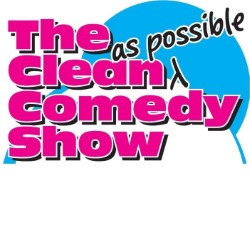 Show details
Stand-up show starring Rob Thomas and Fran Garrity performed on the following days in August 2015...
Mon
Tue
Wed
Thu
Fri
Sat
Sun
03
4
5
6
7
8
9
10
11
12
13
14
15
16
17
18
19
20
21
22
23
24
25
26
27
28
29
30
31
1
2
Venue details
Come and watch three top comedians from the stand up-circuit clean up their act! Two (or more) of the circuit's best loved comedians will be joining hosts Rob Thomas and Fran Garrity in an event that even your grandma will enjoy - unless she's got a potty mouth! Stand-up comedy with a 12A certificate. 'The best performer on the night... Superior physical presence' (Bruce Dessau). 'What a great compere. (Rob's) audience interaction was excellent and his gags were superb' (Martin Mullaney, Cheeky Monkey Comedy).
Share this show
Full press release
The Clean (As Possible) Comedy Show was the brainchild of Tony Vino, a Christian who's been on the comedy circuit since 2006, and has already had three consecutive runs at the Edinburgh Festival. Along the way, it's featured acts such as Greenbelt and Spring Harvest favourites Paul Kerensa, Andy Kind and James Dowdeswell plus Kev Orkian (Britain's Got Talent semi-finalist 2010) and Pat Monahan (winner of ITV's Show Me The Funny). This February, the show went to Leicester Comedy Festival and is back in Edinburgh this August for a full run.
This year Tony has passed on MC duties to Rob Thomas and Fran Garrity. Rob was the runner-up in the year's UK Pun Championships at Dave's Leicester Comedy Festival whilst Fran won All Jokes Aside in 2011.
Says founder Tony Vino: "Everyone seems to love the fact that it's a show they can bring their kids and their Gran to ... as long as their Gran isn't too potty-mouthed that is. All the acts have to follow our guidelines, which parallel those of a 12A certificate film. We've ran shows at Greenbelt, Spring Harvest and the like and they've been a real success; it's great that at the Edinburgh Festival there too seems to be plenty of people that like our family-friendly brand of comedy."
It's a 4.15pm start at The City Cafe (just off the Royal Mile and Nicholson Street) and is FREE ENTRY. The show is an hour long and families are welcome.
---
Credits
Tweets by thecomedyagency