Redheaded Coffeeshop Girl
Confessions of a Redheaded Coffeeshop Girl
Play / Music
6:30pm (1 hour)
5-11, 13-18, 20-25 & 27-31 Aug 2015
8 - 10
This is a 2015 show that has now finished.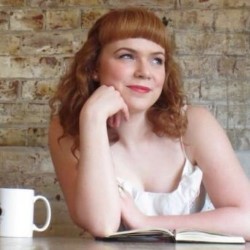 Show details
Play / music starring Rebecca Perry performed on the following days in August 2015...
Mon
Tue
Wed
Thu
Fri
Sat
Sun
03
4
5
6
7
8
9
10
11
12
13
14
15
16
17
18
19
20
21
22
23
24
25
26
27
28
29
30
31
1
2
Venue details
Anthropology graduate Joanie Little is stuck working as a barista. Much like Jane Goodall did with chimpanzees, this upbeat Miss studies her available subjects: the customers of her coffeeshop 'jungle'... hilarity ensues! 'Our eyes and ears are locked into Perry's performance!' (NY Stage Buddy). ***** (CBC). Best Musical 2014 (BroadwayWorld.com). 'Solo performance at its best, with Perry rolling out a cast of characters ... like a wild kingdom field guide! I dare you not to fall in love with Joanie and, by extension, Rebecca Perry.' (Toronto Star). Toronto & NYC Fringe 2014 sell out!
Share this show
Reviews
Press coverage
Full press release
Rebecca is a much admired writer, singer and actress on stage and film in Canada. In Confessions of a Redheaded Coffeeshop Girl she is making her Edinburgh Festival theatre debut, bringing her one woman show of jazzy tunes, co-worker showdowns and life lessons in under an hour.
Meet Joanie Little: feisty redhead and anthropology graduate. yet she's stuck as a barista in a corporate coffeeshop.
Eager to use her vocational skills, Joanie turns her coffee shop upside down and starts reporting her findings on the "creatures" (customers) of her "Coffee Shop Jungle" as though she were Jane Goodall herself, bushwhacking through the African jungle to study the chimpanzees.
Hilarity ensues! // Bosses are angered! // The local news has a field day!
This is a show for anyone who's ever had a job they couldn't stand and will strike a chord with anyone who has ever felt they are in danger of missing their true calling.
Confessions of a Redheaded Coffeeshop Girl is a thoroughly engaging piece of theatre, driven by Perry's impassioned solo performance. This show has been performed to critical acclaim with four and five star reviews in Stratford, London, New York and Toronto amongst other cities, as well as four sold-out runs.