Pussy
PUSSY
Play
11:30pm (1 hour)
6-19 Aug 2015
Free
This is a 2015 show that has now finished.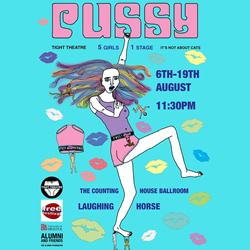 Mon
Tue
Wed
Thu
Fri
Sat
Sun
03
4
5
6
7
8
9
10
11
12
13
14
15
16
17
18
19
20
21
22
23
24
25
26
27
28
29
30
31
1
2
Venue details
PUSSY. Five girls, one stage - It's not about cats.
Share this show
Reviews
Full press release
Five girls - one stage. Is there anything better in this world than a pretty girl in her underwear?
PUSSY is a grotesquely hilarious exploration of what it means to be a young woman growing up in today's society. The five young female performers combine physical theatre, song, guttural soundscapes, Beyoncé lyrics and more to create the distinctly physical style of Tight Theatre. Through this physicality the five girls explore taboos of female adolescence and how society shapes female perceptions of appearance and the ultimate need for sexual satisfaction?
PUSSY dives into the media-fueled, sexualised world of the teenage girl. Exploring the uproarious contradictions of a culture in which a lipstick can be both worshipped and weaponised, where feminist popstars promise to 'keep it tight, keep my figure right', and the female body is a grotesque battle ground over which the public and private self fight for control. Tight Theatre tread the line between silliness and severity, adding their personal voice to this multi-faceted discussion of femininity and feminism in society.
PUSSY.
IT'S NOT ABOUT CATS
Cast & Crew
The performers are:
Ellie Brown
Camille Dawson
Grace Courtney
Natasha Mayo
Emily Parrett
Producers: Lucy Mann, Jessica Moffat
Marketing: Ailsa McKay
---
Credits
Tweets by TightTheatre