Police Cops
Police Cops
Theatre
9:30pm (50 mins)
7-18, 20-25 & 27-31 Aug 2015
8 - 10
This is a 2015 show that has now finished.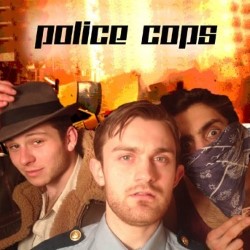 Show details
Theatre performed on the following days in August 2015...
Mon
Tue
Wed
Thu
Fri
Sat
Sun
03
4
5
6
7
8
9
10
11
12
13
14
15
16
17
18
19
20
21
22
23
24
25
26
27
28
29
30
31
1
2
Venue details
Present day (1976) straight-laced rookie Police Cop Jimmy Johnson is out to avenge his brother's death, and he's got to go it alone. With the help of his new partner, a disgraced, retired renegade named Harrison, the pair begin to unearth the soily secrets that the case holds. This Theatre create highly playful pieces that combine Lecoq-inspired physical work, with their own brand of comedic text. Police Cops is a cinematic joyride down adventure avenue in a souped-up squad car. Oh, and did I mention... the steering wheel is made out of guns.
Share this show
Reviews
Press coverage
Full press release
Winner of the prestigious Suitcase Award 2015, This Theatre's Police Cops will be appearing at this years Edinburgh Festival Fringe (Studio, Zoo Southside). Following it's award-winning scratch performance at PULSE Festival 2015, Police Cops has been supported in development by The New Wolsey Theatre and Camden Peoples Theatre.
Police Cops is This Theatre's three-man comedy show which parodies the ever popular American police drama genre. This Theatre - "skilful, witty and smart" (China Plate) - use cinematic style, physical storytelling and nothing more than a suitcase worth of props as they look to 1970's action films to realise what it really means to be a man in the modern world.
This Theatre create highly playful performances which combine inventive physical storytelling with their own brand of comedic text. Parody and satire are centred at the heart of their productions, where they integrate creative, dynamic stagecraft with cinematic style. This use imaginative concepts, exhilarating texts and musical flare to create vibrant pieces of theatre that leave a lasting impression on their audiences. Police Cops is an action packed hour of theatrical comedy that treads the thin blue line between parody and reality.
---
Tweets by this_theatre