Picasso Stole the Mona Lisa
Picasso Stole the Mona Lisa
Theatre
8:50pm (1 hour)
16-31 Aug 2015
6.50 - 10.50
This is a 2015 show that has now finished.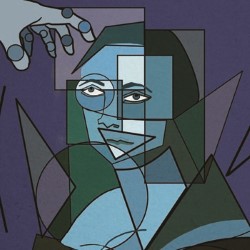 Show details
Theatre performed on the following days in August 2015...
Mon
Tue
Wed
Thu
Fri
Sat
Sun
03
4
5
6
7
8
9
10
11
12
13
14
15
16
17
18
19
20
21
22
23
24
25
26
27
28
29
30
31
1
2
Venue details
Most famous for his Blue Period, founding Cubism, and his life in Bohemian Paris, Pablo Picasso is probably less remembered as the man, who, along with poet Guillaume Apollinaire, was arrested for the theft of the Mona Lisa from the Louvre in 1911. When the missing painting mysteriously appears in Apollinaire's apartment, everyone becomes very, very confused. Faced with the finest examples of Parisian constabulary which could be found at short notice on a Sunday afternoon, can the Bohemian pair prove their innocence? 'An innovative and highly entertaining farce' (Varsity).
Share this show
Reviews
Press coverage
Full press release
Picasso Stole the Mona Lisa, by Jamie Fenton
Pablo Picasso and fellow artist Guillaume Apollinaire are accused of stealing the Mona Lisa in this uproarious farce.
Based on the true story of the theft of the Mona Lisa in 1911, this side-splitting farce explores the bewildering results of being wrongly accused for a crime. The artistically volatile personalities of painter Pablo Picasso and poet Guillaume Apollinaire clash when they find the missing masterpiece, inexplicably in Apollinaire's apartment.
Further panicked by the intrusions of their bizarre neighbours, Apollinaire ends up in a dark police cell, interrogated by an incompetent policeman and his earnest assistant. When Picasso is brought in as well, the plot takes a distinctly Modernist turn.
A swift, spicy cocktail of wordplay and physical comedy, incorporating multimedia to reveal the events behind this outrageous theft. In a novel twist, a single door plays with conventions of farce - what happens when you can't run away into the next room?
Founded in 1855, the Cambridge University Amateur Dramatic Club is the oldest University dramatic society in England. Former members include such mainstays of the British acting scene as Ian McKellen, Derek Jacobi and Emma Thompson.