No Such Thing as a Fish
QI Presents: No Such Thing as a Fish
Multimedia / Panel show
7:30pm (1 hour)
26-30 Aug 2015
10.50 - 12.50
This is a 2015 show that has now finished.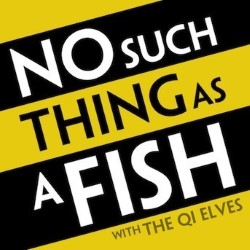 Mon
Tue
Wed
Thu
Fri
Sat
Sun
03
4
5
6
7
8
9
10
11
12
13
14
15
16
17
18
19
20
21
22
23
24
25
26
27
28
29
30
31
1
2
Venue details
Live recording of the hit podcast from the writers of the BBC show QI. Dan Schreiber, James Harkin, Andrew Hunter Murray and Anna Ptaszynski serve up a feast of bizarre, extraordinary and hilarious facts. Prepare to be amazed and amused in equal measure. A new show every day. Five shows only - book early! iTunes Best New Podcast, 2014. Chortle Award winner, 2015. 'The QI Elves drop so many facts your head will spin' (Guardian). 'Expect to be amazed' (Telegraph). 'A roller coaster of jokes and insane trivia' (AVClub.com).
Share this show
Reviews
Press coverage
Full press release
• Finnish meatballs have so little meat in them that they've had to be renamed 'balls'.
• During his 27-year reign, Pope John Paul II took more than 100 ski vacations.
• Abraham Lincoln kept important documents in his top hat.
• Rats that wear polyester trousers can't get erections.
Over the past year, the QI Elves (researchers behind the BBC's QI) have taken the British podcast world by storm with their fact-based comedy show, No Such Thing As A Fish. Each week they unleash a litany of the bizarre, the extraordinary and the hilarious upon more than 600,000 subscribers.
Now the Elves - Dan Schreiber, James Harkin, Andrew Hunter Murray and Anna Ptaszynski - are making their Edinburgh Fringe début with five live performances at the Underbelly. For each show, the four co-hosts will present each other with the most interesting fact they've recently learned, for the others to discuss, scrutinise and enjoy.
Since launching in March 2014, No Such Thing As A Fish has been listened to 11 million times. It's won a 2015 Chortle comedy award, the iTunes Best Newcomer 2014 award and has just completed a sell-out run in London's Soho Theatre.
There's no way of knowing what new discoveries the Elves will bring to the Underbelly in August, or where their comical, fact-laden repartee will lead. The only guarantee is that the show will amaze and amuse in equal measure, and there will be nothing else like it at the Edinburgh Fringe this year.
---
Credits
Tweets by QIpodcast