Next Best Thing
Never Been Better
Sketch show
5pm (1 hour)
8-18 & 20-29 Aug 2015
Free
This is a 2015 show that has now finished.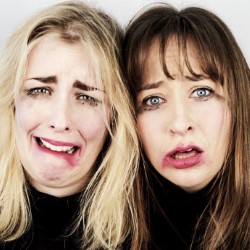 Mon
Tue
Wed
Thu
Fri
Sat
Sun
03
4
5
6
7
8
9
10
11
12
13
14
15
16
17
18
19
20
21
22
23
24
25
26
27
28
29
30
31
1
2
Venue details
Let these sketch clowns lure you into a world of fractious characters who flirt with the bizarre, as their social facades unravel. Secretive mummies, a doubtful priest and a couple who are probably in love. There's a pair of upstarts with a start-up business that can't fail, a doubtful priest, never far from his devoted parishioner and a couple of mummies with a secret on the brink of revelation. Oh, and a couple who are in love? Sure. In love. Probably. ***** (FemaleArts.com). Semi-finalists, Funny Women Awards 2014.
Share this show
Reviews
Full press release
Sketch comedy duo, Next Best Thing will return to the Edinburgh Fringe Festival this August with their second sketch hour, Never Been Better. The show follows their 2014 Edinburgh debut, Next Best Thing. They will be performing in the Upstairs Space at Opium Bar, Edinburgh at 17:00 on 8 - 18 and 20 - 29 Aug 2015.
Following their 2014 show, performed at both Brighton and Edinburgh Fringe festivals, their second show Never Been Better is a thematic and narrative driven comedy. It is inspired by characters who try desperately to prove their social success, but facades slip, secrets are revealed and mis-matched couples face reality.
Jay Bennett and Katie Davison have performed together since the age of four and as Next Best Thing since 2013. They have been recognised for their timing and theatrical chemistry.
The duo are trained in long-form Chicago-style improvised comedy. They are members of the improv troupe Game Face, also performing at the Edinburgh Fringe. Jay is a graduate of the Guildford School of Acting and hosts on Wandsworth Radio. Katie is a graduate of the Royal Central School of Speech and Drama and a member of the Soho Theatre Young Company.
---
Credits
Tweets by NextBestThingUK