Mel Moon
Mel Moon - Sick Girl
Stand-up / Storytelling
12:05pm (1 hour)
8-30 Aug 2015
Free
This is a 2015 show that has now finished.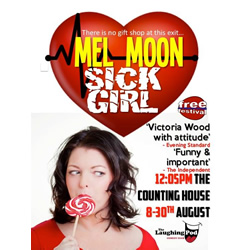 Show details
Stand-up show / storytelling starring Mel Moon performed on the following days in August 2015...
Mon
Tue
Wed
Thu
Fri
Sat
Sun
03
4
5
6
7
8
9
10
11
12
13
14
15
16
17
18
19
20
21
22
23
24
25
26
27
28
29
30
31
1
2
Venue details
Brochure note
This show was not listed in the official Fringe programme so you may not find details elsewhere.
Sick Girl is a true story. My story. I had a baby in 2010, nothing unusual there but it left me with an incurable disease that could kill me; any minute, any where, any day! (Let's hope we get to the end of the show first though eh?) I don't know why it happened to me but I do know that at one point the suffering my family and I felt was considered by me to be too great and so I contacted a leading Euthanasia organisation to help me die. At 35 with two small children I was deemed selfish, irresponsible and weak and maybe I was all three but in this show I'll be as honest as I can be in explaining what a person like me must have faced to want to check out early. Thankfully though, I didn't die! (Unless I did in which case the afterlife is a bit of a let down!) I was offered a lifetime and I took it! And I still wake each day so grateful i was and did and very rarely think about how long I have because that question can never be answered can it? But the one question that can be is; if it got too bad, if you couldn't stand it anymore, would you opt out or wait until nature takes its course? Maybe this show will see you question that answer, maybe it won't! But it will make you laugh. Why? Because comedy and tragedy are the best of friends - oh and I'm a comedian, so that helps! Anyway, come see me! Mel x
Share this show
Reviews
Press coverage
Full press release
Upon deciding to end her own suffering after being diagnosed with a rare endocrine disease, mum of two and comedian Mel Moon (35), began to write her journey using the best medicine she had access to, comedy.
Soon after she became the youngest member of the Euthanasia organisation Exit and began fine tuning the details required in order to reach a peaceful end.
But Mel didn't die (if she did the afterlife is a bit of a disappointment) and instead began turning those pages into a one woman stand-up show called Sick Girl.
Initially the show was to be a collaboration between Mel and Dr. Philip Nitschke, founder of Exit International however, creative differences meant that Mel found herself solo once more and having stripped back the material to give you an honest account of why such a young woman with two small children would make a decision like this; the show is now ready to share with you.
At a time when the debate as to whether Assisted Suicide should be legalised here in the UK a show has never had more relevance. Mel shares her experience of the world that is Euthanasia and how keeping it in the dark actually costs more lives than it saves. This is also the only show where the voice is that of the patient itself. It is a great story of human interest, warmth and how against all the odds, this young lady is still in with a chance of her happy ending.
Mel recently had her story in the Independent, The Guardian with TV appearances on London Tonight on ITV, London Live's entertainment show, and Sky News Sunrise. Mel has also done Radio for BBC Radio Essex, Sussex & Kent.
---
Tweets by melmoon