Maxine Jones
Maxine Jones: Full Circle
Stand-up
8:50pm (50 mins)
8-18 & 20-29 Aug 2015
Free
This is a 2015 show that has now finished.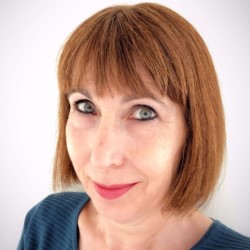 Show details
Stand-up show starring Maxine Jones performed on the following days in August 2015...
Mon
Tue
Wed
Thu
Fri
Sat
Sun
03
4
5
6
7
8
9
10
11
12
13
14
15
16
17
18
19
20
21
22
23
24
25
26
27
28
29
30
31
1
2
Venue details
Maxine (RTE, BBC R4, Embarrassing Mother, Invisible Woman) plans to move back to the UK after raising sons in Ireland. What's changed? What has she learnt over her lifetime? What does anybody ever learn? Does everything always come full circle? Can she still cartwheel? Progress is a myth. Everything comes round again, from karma and fashions to the mistakes we make. But (despite the worries circling in her head, e.g. nearly 60 and no pension) going round in circles can be fun. 'Witty, warm and polished' (Brighton Review). 'Outstandingly funny' (Entertainment.ie). 'Top 10 feminist fatales' (Chortle.co.uk).
Share this show
Full press release
After Embarrassing Mother and Invisible Woman, Maxine Jones returns to Edinburgh with Full Circle 'because everything comes round again and again.'
A few months off 60, Maxine has seen many patterns repeat and fashions return. Our whole life is a circle. People now apologise when they swear in front of her, just like they did when she was a kid.
To slow down the ticking clock, she has taken to running in circles at a local parkrun. Soon she'll be in the Women's Veteran's 60-65 age group. She'll slaughter them... If there are any.
Now she aims not to be good, but to be good for her age. Except in comedy, where she wants to be 'better than those young fuckers.'
After 25 years in Ireland, Maxine now wants to return to her native England. One thing is putting her off, while another is drawing her back. As her show comes full circle, will she?
Maxine has featured on BBC Radio 4's Woman's Hour and [i]RTE Arena[i].
---
Tweets by maxinejonescom