Marc Gassot
Dark Side of the Mime
Comedy
11:15pm (1 hour)
5-16, 18-23 & 25-30 Aug 2015
10 - 12
This is a 2015 show that has now finished.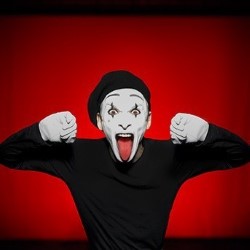 Mon
Tue
Wed
Thu
Fri
Sat
Sun
03
4
5
6
7
8
9
10
11
12
13
14
15
16
17
18
19
20
21
22
23
24
25
26
27
28
29
30
31
1
2
Venue details
An audacious, dark and dirty romp that will have Marcel Marceau turning in his grave. Its raunchy humour will take you by surprise. Actor and mime artist Marc Gassot is joined by his accompanist Karl Sinkkonen, to bring you this multi award-winning late night physical show. Are you bold enough to enter the Dark Side of the Mime? Winner of Best Theatrical Event of the Year, Finland. Actor of the Year, Finnish National Actors' Union.
Share this show
Reviews
Press coverage
Full press release
An audacious, dark and dirty romp which would have Marcel Marceau turning in his grave. Written and performed by Marc Gassot, Directed by Akse Pettersson.
Jacques Lecoq trained actor and mime artist Marc Gassot is joined by musical accompanist Karl Sinkkonen to present this audacious multi-award winning late night show. With plenty of saucy imagery and graphic mime, Dark Side of the Mime exposes our subconscious in a raw, unhinged solo performance packed with humour and surprising audience involvement. This full-on show comes to the UK for the first time, having won Best Theatrical Act of the Year in Finland and Finnish National Actors' Union's Actor of the Year Award for Marc Gassot.
Director Akse Pettersson says "Dark Side of the Mime explores the grotesque like nothing else. It mixes together classic pantomime with sex, splatter, and slapstick humour. At its core lies the fundaments of our common culture and its taboos. It taps into the dark side we all have in our minds. But if the first common denominator is darkness, the second one is laughter. We all know the jokes we tell each other in good, secure, and secluded company. The ones we wouldn't be ready to share with just anyone. Well, our show tells those jokes. You can see it as a smart look into the mechanics of pop culture, or just take it as it is: a mime-porn-splatter-show."
Akse Pettersson graduated from the Theatre Academy of Finland, Helsinki with top grades and was already leading a theatre when he graduated, as the youngest director to do so in the country. He has since written, directed and co-authored over 30 performances and has been hailed by critics as the most interesting director of his generation, following his success with Kaspar Hauser (2014). He is currently working in Helsinki as the Artistic Director for the prestigious independent company Takomo Theatre.
Marc Gassot is currently starring in The Betrayal at the National Theatre of Finland and has worked for various companies in Finland and abroad, including the Danish company Out of Balanz, with whom he performed Next Door at the Edinburgh Fringe in 2013. Next Door also appeared in the BE Festival in Birmingham, where it won both the audience and main festival prizes. He was trained at the Theatre Academy of Helsinki and the l'École Internationale de Théâtre Jacques Lecoq in Paris. Marc Gassot has also taught mime and clownery at the Theatre Academy of Helsinki and the University of Tampere, Finland.
Karl Sinkkonen is a musician, composer and a music producer. He has played his keyboards with numerous Finnish top artists and bands on records and tours. In his 20-year career he has composed film scores and soundtracks for both independent and main stream films, TV series, commercials and banners. In theatre he both composes and performs. He has also recorded music on his own name.
Lighting designer Teemu Nurmelin has worked with Marc Gassot since collaborating on Next Door at the Edinburgh Fringe and BE Festival in 2013. The same year he won the prestigious Beam of Light award for his design for Carmen, celebrated the way it used moving light to shape the ambience and rhythms of the production. After the Fringe, Teemu will return to the Finnish National Theatre where he is an associate designer.
Video
---
Credits
Tweets by DSofTheMime