Make 'em Ups
The Bumper Blyton Improvised Adventure
Improv
4pm (1 hour)
6-20 Aug 2015
Free
This is a 2015 show that has now finished.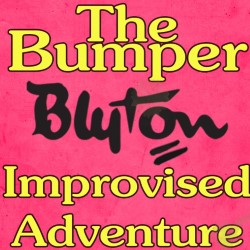 Mon
Tue
Wed
Thu
Fri
Sat
Sun
03
4
5
6
7
8
9
10
11
12
13
14
15
16
17
18
19
20
21
22
23
24
25
26
27
28
29
30
31
1
2
Venue details
The picnic hamper's packed, it's time for a jolly adventure in the grand old style of Enid Blyton! Cast yourself back to the 1940s when houses cost thruppence, snuff was tuppence, and getting a tongue sandwich cost wuppance. The stellar cast improvise entirely new adventures daily using your suggestions and inspiration from the Blyton classics; Mallory Towers, Famous Five, Faraway Tree and Noddy! Expect mystery, mild peril, rambling castles and bumbling baddies! Created by the people behind Chortle award-winning Austentatious and 5-star sell-out Upstairs Downton and featuring members of The Beta Males and The Maydays.
Share this show
Reviews
Press coverage
Full press release
From the creators of award-winning comedy show Austentatious, International smash-hit Showstoppers! and 5-star sell out show Upstairs Downton, comes a brand new retro improv show inspired by the bumper back catalogue of the nation's favourite children's author, Enid Blyton.
Precisely 60 years after Mrs. Blyton started legal proceedings to quash rumours that she didn't employ ghostwriters, the cast of improvisers narrowly avoid plagiarism by creating a new story each day inspired by the audience's drawings.
"With her books still selling around 8 million copies a year and with over 750 to choose from, Enid may have written for children, but her stories still delight grown-up children around the world," says Amy Cooke-Hodgson, co-creator of the show. "With the audience's help there's no telling what kind of stories we'll discover each show. After all, her work was banned from more public libraries than those of any other author, so a little creative license and a lot of laughs are par for the course!"
The picnic's packed, the eggs are hard-boiled and mother's provided the ginger beer. So brace yourself for a jolly romp through 1940's nostalgia where it's always the summer hols and adventure lies around every corner!
The Cast
Amy Cooke-Hodgson - Chortle Award winning Austentatious, Olivier Award winning La Bohème.
Richard Soames - BBC3's Made For Each Other, Chortle Award nominated Beta Males, Monkey Toast.
Alison Thea Skot - Funny Women Finalist, BBC Radio 4's So On and So Forth, The Free Association.
Justin Brett - Showstoppers!, Million Dollar Quartet, Channel 4's Peep Show.
Heather Urquhart - The Maydays, Ten Thousand Million Love Stories.
Olli Izod - Musical Comedy Awards Finalist, Betty Blue Eyes, Battle Acts.
Jinni Lyons - Jinni Lyons is an Only Child (US tour), Destination (Podcast).
Jonah Fazel - Upstairs Downton, The Butcher of Baker Street, The Holiday After Tomorrow (Podcast).
---
Credits
Tweets by BlytonImpro