Madame Senorita
Madame Señorita: ¿Eres Tú?
Variety
12:45am (50 mins)
6-16, 18-27 & 29-30 Aug 2015
Free
This is a 2015 show that has now finished.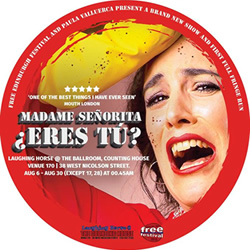 Show details
Variety starring Paula Valluerca performed on the following days in August 2015...
Mon
Tue
Wed
Thu
Fri
Sat
Sun
03
4
5
6
7
8
9
10
11
12
13
14
15
16
17
18
19
20
21
22
23
24
25
26
27
28
29
30
31
1
2
Venue details
Madame Señorita is fifty minutes of unadulterated pleasure where the audience is seduced by her totally idiosyncratic charm and playful poetry. Some of the core elements include music, situation games and physical comedy. As a whole this show presents a tender, generous, tragicomic and fresh diva-clown who is not afraid of improvisation. This offers the public the chance of living unique, intimate moments that can only happen in that particular place, at that precise moment, once in a lifetime. Best Female Solo Award at the London International Solo Festival.
Share this show
Press coverage
Full press release
Accomplished actress, mime and comic, Paula Valluerca brings award winning show in London and Madrid, Madame Señorita: ¿Eres Tú?, to the Edinburgh Fringe this year, a clown-character creation that will set tongues wagging and hearts racing.
Madame Señorita is a force of nature who has come to Edinburgh to provoke and entertain her audience with her show ¿Eres Tú? Using interactive games and original live music, Madame Señorita takes her audience out of their comfort zone. Human obsessions, fear of abandonment, or the desperate anxiety of being recognised are some of the themes to be found in this bizarre and unique journey.
Singing and flamenco-ing her way to a new fortune, Madame Señorita shares with us the tales of her tempestuous love life, including her affair with Roberto, a Spanish priest with a tendency to run away when things get complicated... Her endless search for love provides some, literally, touching moments with the audience.
But don't worry, Madame Señorita is playful and passionate but she doesn't bite, at least not usually. She just wants to leave her mark on British culture and make us a bit more open to our feelings. If you want to leave behind social norms, make space for passion and curiosity for life, this is a show for you!
Paula Valluerca is a graduate of ENT (Navarra Theatre School) and has trained in Lecoq technique at The London International School Of Performing Arts. She has collaborated with Simon Scardifield, Cal McCrystal, Mick Barnfather and Jon Wright, and appeared with English National Opera in The Pearl Fishers. Paula is also a producer, youth leader and storyteller, performing in that role for companies including Assembly SE8. Madame Señorita: ¿Eres Tú? is her second solo show.
Paula Valluerca started Madame Señorita´s journey in 2012 during a creative process for one of the shows of theatre company Intuitive Creatures, created by four international actors of which Paula is a founding member, deviser and performer.
---
Tweets by SeNoritaEmE