LUTheatre
Cardinal Sin
Play
3:15pm (50 mins)
17-23 Aug 2015
Free
This is a 2015 show that has now finished.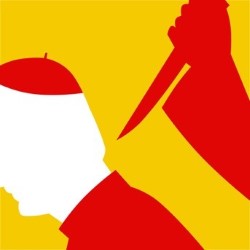 Show details
Play performed on the following days in August 2015...
Mon
Tue
Wed
Thu
Fri
Sat
Sun
03
4
5
6
7
8
9
10
11
12
13
14
15
16
17
18
19
20
21
22
23
24
25
26
27
28
29
30
31
1
2
Venue details
Cardinal Sin delves into the dark (or at least rather mauve-ish) world of papal intrigue and mystery in an hour-long comedy romp through the Sistine Chapel. Gasp at the tragic murder of a beloved cardinal! Cheer for our brave and intrepid heroes! Be at least partially satisfied with their madcap antics! Will the assassin be caught? Can the detectives do the detecting thing? Why don't they just call the police? Find out in this comic twist on the detective genre, which is guaranteed to bring a smile to at least three faces - don't miss out!
Share this show
Reviews
Press coverage
Tweets by LU_Theatre
Visitor reviews

John Leone
I went to this show on the spur of the moment, having been given its flyer, along with many others, by one of the actors in a crowded street. It is a matinee performance and was well worth the hour it lasted. The writing could be a little sharper but I, and the rest of the audience, really enjoyed it and was drawn into its comedy by some excellent young actors. The lead actors may be new to the fringe but they have a talent for comedic timing and both mad and deadpan delivery. The lead actor Cardinal Kris delivered a strong performance which allowed the other Cardinals, male and female, to do a great job. The show is free and I would heartily recommend it to families and anybody who is looking for some light comedy in the middle of the afternoon.