Lucie Pohl
Lucie Pohl: Cry Me a Liver
Storytelling
4pm (1 hour)
5-31 Aug 2015
8 - 9
This is a 2015 show that has now finished.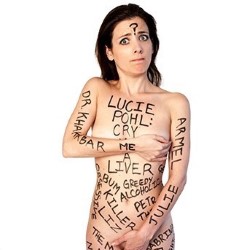 Show details
Storytelling starring Lucie Pohl performed on the following days in August 2015...
Mon
Tue
Wed
Thu
Fri
Sat
Sun
03
4
5
6
7
8
9
10
11
12
13
14
15
16
17
18
19
20
21
22
23
24
25
26
27
28
29
30
31
1
2
Venue details
From the creator of Edingburgh Fringe 2014 smash hit Hi, Hitler, 'crazily funny' (BroadwayBaby.com) NYC comedian Lucie Pohl brings you her new soul-twerking character comedy joyride. Meet a fame obsessed Sia wannabe, a philosophising Brooklyn bum, Putin's sperm, a German mind and body healer with a serious crush on Benicio del Toro, and more. One chuckle guaranteed. 'Absolutely hilarious' ***** (Mirror). 'Hilarious and poignant' ***** (One4Review.co.uk). 'Destined for stardom' **** (Metro). 'A breath of fresh comedic air' **** (Edinburgh Evening News). 'Laugh out loud funny' (Scotsman).
Share this show
Reviews
Press coverage
Full press release
After 5 star reviews and sold out shows across North America and Europe with her debut hour Hi, Hitler, that told the real life tale of being Bertolt Brecht's real-life niece with a fascination for Hitler, Lucie Pohl returns to the Edinburgh Festival's Gilded Balloon for the second year with her new show Cry Me A Liver. This year sees a departure for Lucie with a character comedy show that brings you an exquisitely mad collection of people and takes you on a mind bending, soul twerking joyride to the depths of your cake batter and the top of your medicine cabinet.
Lucie Pohl is an obsessive-compulsive eavesdropper and observationist. In her quest to climb into other people's minds and time spent following strangers around on the streets of New York City, London, Berlin and Cumbernauld, she entraps a myriad of characters that now inhabit her body and are dying to come out. Cry Me A Liver sees her play everyone but herself including a fame obsessed Sia wanna be from Brighton (UK), a philosophizing New York City bum, an Indian liver transplant doctor, an alcoholic killer from Kansas and his sister, an angry Italian communist, the airhead barista that wants to change the world one selfie stick at a time, Putin's sperm, a stay at home mom who mistakes financial consulting for parenting and a German mind and body healer with a serious crush on Benicio del Toro. Cry Me A Liver is a hilarious look at this seriously sad planet. Everyone's got problems, so cry me a liver.
Lucie's lead role in the film Magi directed by Hasan Karacadag and also starring Michael Madsen (Reservoir Dogs, Kill Bill), Stephen Baldwin (The Usual Suspects) and Brianne Davis (Jarhead, True Blood) is due to come out this Spring/Summer. Other credits include: Film: Not Fade Away (Paramount Vantage), El Cielo Es Azul (Vox3 Films) a.o.. Theatre: Three Graces (Immigrant's Theater Project/3-LD), Alma Mahler: Widow of the 4 Arts (The Los Angeles Theatre), Vocal Migrations (LaMaMa) MFA in Acting from the University of the Arts in Berlin.