Lou Conran
Lou Conran: Small Medium at Large
Storytelling
3pm & other times, see below (1 hour)
6-16, 18-23 & 25-31 Aug 2015
8
This is a 2015 show that has now finished.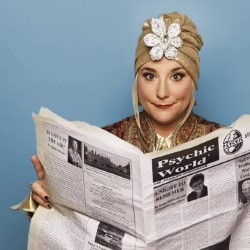 Show details
Storytelling starring Lou Conran performed on the following days in August 2015...
Mon
Tue
Wed
Thu
Fri
Sat
Sun
03
4
5
6
7
8
9
10
11
12
13
14
15
16
17
18
19
20
21
22
23
24
25
26
27
28
29
30
31
1
2
Days marked with a + indicate multiple performances.
Differing performance details
6 Aug, 7pm
7 Aug, 7pm
8 Aug, 7pm
9 Aug, 7pm
10 Aug, 7pm
11 Aug, 7pm
12 Aug, 7pm
13 Aug, 7pm
14 Aug, 7pm
15 Aug, 7pm
16 Aug, 7pm
18 Aug, 7pm
19 Aug, 7pm
20 Aug, 7pm
21 Aug, 7pm
22 Aug, 7pm
23 Aug, 7pm
25 Aug, 7pm
26 Aug, 7pm
27 Aug, 7pm
28 Aug, 7pm
29 Aug, 7pm
30 Aug, 7pm
31 Aug, 7pm
Venue details
Lou Conran talks to dead people (and live ones too if pushed). Brought up with a clairvoyant mother, who goes to a real life Hogwarts, she hasn't got much choice. In her new show, Lou talks about finding dead bodies, phantom ukuleles and giving readings via the medium of food (a subject close to her heart). Who wouldn't want their granddad brought through symbolically in the form of a trifle? Lou reluctantly discusses her own real experiences with the other side. Comedy clairvoyance in a caravan, why wouldn't you go? 'Naturally funny' (Sarah Millican).
Share this show
Reviews
Press coverage
Full press release
Comedian Lou Conran (Emmerdale*, Hollyoaks**,) has a 'special gift'- she talks to dead people, or rather they talk to her. In her debut show at the 2015 Edinburgh Festival, Lou has her first 'outing' of being a self-confessed weirdo, and what better venue to do that in, but a caravan.
During the show, Lou reveals that all her life she never really understood why she was different to everyone else - ignoring the signs for years - including finding dead bodies, hearing rappings on the walls, lights flickering and so on. It wasn't until she stepped into her first class at Clairvoyant Camp (sort of a Hogwarts for adults) that the messages started literally pouring out of her.
Lou is busily ripping the guts out of her 1980's caravan to convert it into a 15 seater theatre-come-boudoir for her bijoux performances and even has a new turban.
"I actually didn't have the money for a caravan!" says Lou "but I decided to have a go at cosmic ordering, if it's good enough for Noel Edmonds then it's good enough for me. One came up on eBay in Manchester for £700, so I put it on my credit card, the next day, I won the postcode lottery which paid for it!" She's taking that as a sign it is meant to be.
Join Lou and her many dead friends (they don't take up much space) for a night you'll remember for a very, very long time...
Lou began stand-up in 2005 and regularly supports Sarah Millican, who describes Lou as 'naturally funny'. She'll appear alongside Sarah on Radio 4's show It's Not What You Know later in the year.
*An abattoir worker, **A midwife, and was also a badger in an advert last year, but doesn't like to brag.
---
Tweets by louconran