LetLuce
LetLuce in Sea Men (A Naval Tale)
Storytelling
4pm (1 hour)
6-17 & 19-29 Aug 2015
Free
This is a 2015 show that has now finished.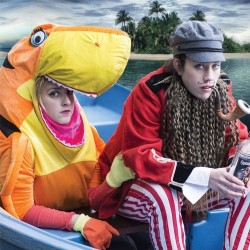 The listing for this show in the printed programme is wrong. The following details are more likely to be correct, but we suggest you independently check.
Mon
Tue
Wed
Thu
Fri
Sat
Sun
03
4
5
6
7
8
9
10
11
12
13
14
15
16
17
18
19
20
21
22
23
24
25
26
27
28
29
30
31
1
2
Venue details
Charmingly anarchic breakthrough duo LetLuce were wholly responsible for 2014 word of mouth hit Show Pony. Put your lovely armbands on for an absurdist, magical voyage and more 'excellent surreal mayhem' (Sunday Times). 'Skilful, joyful, old-fashioned clowning ... the duo are great company ... wonderfully funny' (Guardian). 'Oddly delightful, too many moments of total brilliance, completely nonsensical yet an utter delight' (List). 'This breakthrough duo take the chaotic whimsy of The Boosh and raise it a notch or two ... stardom beckons' (Sunday Times). 'Fantastic comedy' (Jennifer Saunders).
Share this show
Reviews
Press coverage
Full press release
The superbly surreal, anarchic and charming comedy pairing of LetLuce are returning to Edinburgh with their new Fringe show for 2015: LetLuce in Sea Men (A Naval Tale). Join LetLuce as they voyage into the ridiculous with the cockle-warming tale of an unlikely friendship, set in the heart of The Atlantic Ocean.
The Captain has lost his crew, his map, his morale and his rum. Things are looking very bleak until he catches a rather unusual fish who will change his life forever. The Captain is on a quest to find The Potion of The Ocean but the Fish just wants to find true love. Both are desperate to get to River Island (the place, not the shop), so together they embark on a magical voyage chokka-block with curious characters and nautical nonsense.
Expect very funny and totally daft joy from Lucy Pearman and Letty Butler who have a myriad of comedy influences from The Mighty Boosh to Harry Enfield and French and Saunders.
Having met at LAMDA, Letty and Lucy were regularly cast opposite each other in both very serious and very non serious roles. You might recognise them from their appearances in the ad campaigns for Silverspoon's Truvia and Maltesers Teasers. They are currently developing a television pilot with Moxie Pictures, which will be directed by James Griffiths (Cuban Fury, Episodes, Up all Night) and produced by Claire Jones (Sightseers, Kill List).
---
Credits
Tweets by LetLuceUK