Leaving The House with Top Joe
Leaving The House, With Top Joe
Comedy
8pm (55 mins)
8-29 Aug 2015
Free
This is a 2015 show that has now finished.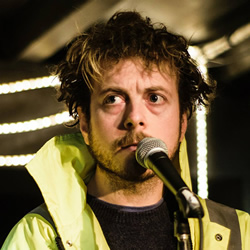 Show details
Comedy performed on the following days in August 2015...
Mon
Tue
Wed
Thu
Fri
Sat
Sun
03
4
5
6
7
8
9
10
11
12
13
14
15
16
17
18
19
20
21
22
23
24
25
26
27
28
29
30
31
1
2
Venue details
Brochure note
This show was not listed in the official Fringe programme so you may not find details elsewhere.
Top Joe is a timid character who wears a hi-vis jacket and only comes out at night. Occasionally he braves leaving the house in order to create edge of your seat performances that involve confusion, 80's power ballads, a cassette player and vintage photography. Don't miss it, man.
Share this show
Press coverage
Visitor reviews

Bunny82
Apparently "you can do anything in a high-vis jacket and no one questions you", so when I was approached by a charming Welshman on George IV Bridge wearing such a garment, telling me to see his show, I felt I was in no position to argue. I had no idea what to expect from Top Joe: Leaving the house, but after less than 5 minutes, I was satisfied that my decision to commit to the hour, was absolutely the right one. Part recluse, part potential cult leader, Top Joe took his audience on a journey that was laugh out loud funny, sometimes heart breaking but always utterly charming. I can't cohesively explain what happened and do it justice so I will simply say that it was the most magical hour I spent at the fringe and I'm convinced that the shared experience he created, ensured every other audience member felt the same. The manner in which everyone unquestioningly stepped into Top Joe's world and embraced the sense of community cultivated in just an hour, takes real skill (made more impressive by the fact that everyone, including me, seemed unaware that this was happening). Thank you again Top Joe, I'm off to dispense some Berroco (and yes, you can borrow my Dyson).