Kyle Kinane
Kyle Kinane: Ghost Pizza Party
Stand-up
10:10pm (1 hour)
6-17 & 19-30 Aug 2015
9 - 12
This is a 2015 show that has now finished.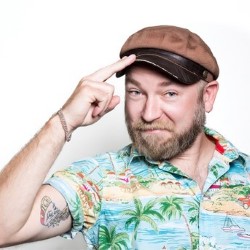 Show details
Stand-up show starring Kyle Kinane performed on the following days in August 2015...
Mon
Tue
Wed
Thu
Fri
Sat
Sun
03
4
5
6
7
8
9
10
11
12
13
14
15
16
17
18
19
20
21
22
23
24
25
26
27
28
29
30
31
1
2
Venue details
This show is about ghosts having a pizza party. Or maybe it isn't. Maybe, at one point, one of Kyle's stories does in fact centre around the idea of the undead enjoying a slice. But the rest of the show is still just that guy there in the picture telling you stories. One of America's fastest rising comedy stars, and 2014 Melbourne International Comedy Festival Barry Award nominee, makes his Edinburgh Fringe debut. 'Kinane is like a comedy god to us' (Time Out Chicago). 'Dark and delightful' ****1/2 (Age, Australia).
Share this show
Reviews
Press coverage
Full press release
One of the America's hottest comedians Kyle Kinane makes his Edinburgh Festival debut with his new show Ghost Pizza Party. The show follows on the footsteps of last year's hugely successful sold-out Soho Theatre run.
Kyle's new special I Liked His Old Stuff Better" debuted on Comedy Central in January 2015. He's appeared on @Midnight, Conan, Workaholics, Those Who Can't and Comedy Bang! Bang! He can be heard as the voice of Comedy Central and in various animated programs such as Regular Show, Aqua Teen Hunger Force, Bob's Burgers, TripTank, Adventure Time and Lucas Bros. Moving Co. His first one hour special, Whiskey Icarus, aired on Comedy Central in 2012.
In Ghost Pizza Party Kyle finally answers the age-old question, "What does a heterosexual, Caucasian, middle-class American man raised by two loving, heterosexual Caucasian, middle-class American parents have to say about the world around him?" Come on...it's just a few stories from that guy! Do you want to hear funny words come out of that face for an hour? Yeah? Good for you! Sometimes there's a guy in the bar, or pub who is a little too loud but you don't care because he's a more fun to listen to than your friends. That's Kyle!
Originally from Addison, Illinois, Kyle has been performing for ten years. He has performed all over the world. Now residing in Los Angeles, he is a regular at the Hollywood Improv and UCB theatre. He'll have you know he was rated No.5 in the Top 10 Emerging Comedians list on AskMen.com. Check Kinane out on YouTube if you're ready for "a bleak, misanthropic Ernest Hemingway look-alike with a penchant for suicide jokes," as one UK media outlet described him. But they're, uh, the happy kind of suicide jokes. Honest.