Jenny Bede
Jenny Bede: Don't Look at Me
Music
3:30pm (50 mins)
6-7, 9-23 & 25-30 Aug 2015
7 - 11
This is a 2015 show that has now finished.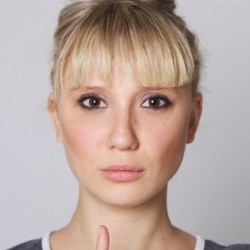 Show details
Music starring Jenny Bede performed on the following days in August 2015...
Mon
Tue
Wed
Thu
Fri
Sat
Sun
03
4
5
6
7
8
9
10
11
12
13
14
15
16
17
18
19
20
21
22
23
24
25
26
27
28
29
30
31
1
2
Venue details
Join the Observer's 2015 rising star and winner of the 2013 Musical Comedy Awards Best Newcomer for an hour of the finest pop culture inspired songs and stand-up. PS you can totally look at her. In fact she'd really rather you did. 'Inspired' (Telegraph). 'If there was one act on the bill I would confidently tip for stardom, it'd be Bede' (Bruce Dessau). 'Her name is Jenny Bede and she is very funny' (Heat). 'Hilarious' (Metro). 'You're not a soprano, stop trying' (her singing teacher).
Share this show
Reviews
Press coverage
Full press release
Interested in songs with witty pop parodies, mixed with searingly brutal takedowns of everyday sexism, interspersed with songs about annoyingly fake gluten intolerances? Want to hear Jenny battle rap her own brain right after a niche song about how her mum is secretly the rapper Drake? Of course you do - and that's what Jenny's going to give you. Join Jenny Bede and take a tour round a weird and wonderful world where quick witted rap meets gut wrenching ballad meets lots and lots of laughter.
An award winning musical comedian and actress, Jenny first gained a following on YouTube by writing, directing and performing in a series of topical parody music videos, gaining over 2.5 million views of a version of Run DMC's Walk this Way, starring herself as Cheryl Cole, titled 'Talk this Way'. This captured the eye of the industry. In 2013, Jenny started performing live solo material, entering the Musical Comedy Awards and winning Best Newcomer after just 3 live gigs. Now fast forward to 2015 and she is due to appear in highly-anticipated hybrid comedy Murder in Successville for BBC3, stretching her improv skills whilst playing surreal versions of famous faces - Nicki Minaj, Jessie J and Taylor Swift.
In 2014, she wrote and starred in her own musical sketch pilot, Jenny Bede: AAA for BBC Comedy. A sought after actress, Jenny has also appeared in Episodes (BBC2), Josh (BBC3), Crackanory (Dave) Murder in Successville (BBC3), Watson & Oliver (BBC2), Bafta award- winning Misfits (E4) and Broadchurch (ITV). In 2013 she was the face of Mad on Chelsea, the irreverent spin off to the Bafta winning Made in Chelsea, which saw Jenny write and act in weekly sketches as well as presenting the show. She also appeared in the British comedy films Convenience alongside Vicky McClure (This Is England) and The Worlds End alongside Nick Frost & Simon Pegg.
Born and bred in London's Zone 6, Jenny spent over a decade wanting to grow up and be a lollipop lady before realising that she could just pretend to be one...and lots of other things too. Once the penny dropped, she spent the next decade (and beyond) pursuing her passion for music and drama. As a post-graduate, it wasn't long before her comedic skills were noticed, and she was hired by renowned topical sketch show Newsrevue. A fertile breeding ground for writer performers, it was there that Jenny began to write her own material and find her comedy voice.
A huge fan of pop music, but unimpressed by cheap shots taken at celebrities, Jenny's videos are homages, and come from a place of joy and celebration. Her lampooned celebrities agree - people like Jessie J, Professor Green and Kylie Minogue have all tweeted or shared on Facebook their appreciation for their starring roles in her sketches.
And just so you know, it's okay to look at her - in fact, she'd prefer it.
Video clip (password: minaj)

---
Tweets by JennyBede