Ian Crawford
Accident Avoidance Training for Cutlery Users - Level 1
Stand-up
8:15pm (50 mins)
23-29 Aug 2015
Free
This is a 2015 show that has now finished.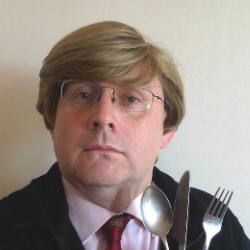 The listing for this show in the printed programme is wrong. The following details are more likely to be correct, but we suggest you independently check.
Show details
Stand-up show starring Ian Crawford performed on the following days in August 2015...
Mon
Tue
Wed
Thu
Fri
Sat
Sun
03
4
5
6
7
8
9
10
11
12
13
14
15
16
17
18
19
20
21
22
23
24
25
26
27
28
29
30
31
1
2
Venue details
Do you know how to safely operate a butter knife? Do you know how to minimise injury from an unsupervised fork? Do you have spoon-sense? Health and safety really has gone mad, courtesy of comedy character Ian Crawford, an adviser from the Steel and Cutlery Manufacturers Association. What he has to share is deadly serious and you'd be forking mad to miss him! Performed by a former Curve Theatre Comedy Competition winner, Dave's Leicester Comedy Festival. Think once, think twice, think fork, spoon and knife.
Share this show
Press coverage
Tweets by SpoonSense