Hurt & Anderson
Hurt and Anderson: Sketchbombs
Music / Sketch show
12pm (noon) (1 hour)
6-10, 12-16, 18-23 & 25-30 Aug 2015
Free
This is a 2015 show that has now finished.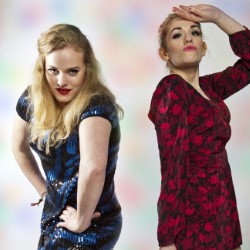 Mon
Tue
Wed
Thu
Fri
Sat
Sun
03
4
5
6
7
8
9
10
11
12
13
14
15
16
17
18
19
20
21
22
23
24
25
26
27
28
29
30
31
1
2
Venue details
Hurt and Anderson return with an entirely new, hilarious show. These Sketchbombs will turn you on with a mix of '...genuinely quick-witted' (ThreeWeeks) sketch comedy and 'absolutely fabulous' (York Vision) musical comedy. From the satirical to the surreal they can give it to you so why don't you come along? **** (ThreeWeeks).
Share this show
Reviews
Press coverage
Full press release
Hurt & Anderson proudly present their fourth Edinburgh Fringe show; these "Sketchbombs" are ready to blast you away with their unique blend of hilarious songs, side-splitting sketches and Hurt and Anderson's easy onstage rapport. With great comic timing and musical skills, these two are ready to make their audience explode with laughter.
From the satirical to the surreal, Hurt and Anderson navigate pop stars, feminism, TV and film, modern culture and politics during a brand new hour of pure entertainment and hilarity - they can give it to you so why don't you come along?
Georgia Hurt and Laura Anderson have been best friends and comedy partners since the age of 15. After giving comedy a shot in the school talent show they went on to debut at the fringe in 2011 with their show A Bit Sketchy and they performed again in 2012 with Scenes of a Vignette-ish Nature and in 2014 with Bringing Sketchy Back. They have headlined York University's Fem Fest Stand Up night and perform regularly at London Comedy Clubs such as Monkey Business and Big Nose Comedy.
---
Credits
Tweets by HURTandANDERSON