HMS Pinafore
H.M.S. Pinafore
Musical
7:25pm (90 mins)
24-30 Aug 2015
8 - 10
This is a 2015 show that has now finished.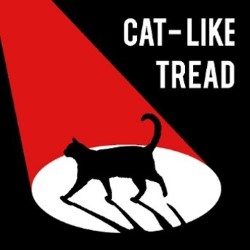 Show details
Musical performed on the following days in August 2015...
Mon
Tue
Wed
Thu
Fri
Sat
Sun
03
4
5
6
7
8
9
10
11
12
13
14
15
16
17
18
19
20
21
22
23
24
25
26
27
28
29
30
31
1
2
Venue details
Your gallant crew is ready to sail, but secrets abound and passions run as high as the tide. The beautiful Josephine, Captain Corcoran's daughter, is caught between Admiral Porter's unfavourable attentions and forbidden love in the arms of strapping deckhand Ralph. As mutiny looms, can true love prevail? Following their 2014 sell-out debut, The Pirates of Penzance, local theatre company Cat-Like Tread return to the Edinburgh Festival Fringe with this comic musical by Gilbert and Sullivan. With 90 minutes of spirited music, witty dialogue and clever choreography, the energetic cast puts on a fun night for all ages!
Share this show
Full press release
H.M.S Pinafore by W. S. Gilbert and Arthur Sullivan, performed by Cat-Like Tread.
H.M.S. Pinafore was Gilbert & Sullivan's first big hit, bringing them acclaim from both sides of the Atlantic. Originally performed in 1878, it remains one of their best known and most loved shows. It features witty dialogue and catchy songs that are still relevant today, more than 130 years after it premiered. Perhaps that's why you still find references to it in so many places - The Simpsons, The West Wing, Star Trek, Family Guy and House to name just a few.
Cat-Like Tread have created an energetic and engaging production that will leave you humming and send you off with a spring in your step at the end of the night. There are no fancy gimmicks, no radical re-imaginations or quirky settings, just a dynamic performance of the original show by a group of people who love what they're doing.
The show is set on board the British Navy's ship H.M.S. Pinafore, where a hearty crew of sailors can be found standing to their guns all day and singing a merry tune as they go about their work. Ralph Rackstraw is one of these sailors and alas, he's fallen in love with the Captain's daughter, Josephine, a lass far above his station. Josephine may be swayed by his handsome looks, but she knows her duty is to reject Ralph, particularly as she has been promised as wife to the ruler of the Navy, Sir Joseph Porter K.C.B.
When Sir Joseph arrives on board (accompanied by a large group of sisters, cousins and aunts), Josephine must make her choice. Will she marry for love and live in poverty with Ralph, or dutifully marry Sir Joseph, ensuring a life of comfort but devoid of love? Yet as secrets come to light, Josephine's choice and the fate of Ralph are far from certain. Join us on board to find out what becomes of these star-crossed lovers as they set sail on the high seas and remember, things are seldom what they seem...
Cat-Like Tread
Cat-Like Tread is a new theatre company based in Edinburgh. It was set up by a group of friends who all love Gilbert & Sullivan and couldn't understand why it was so scarce at the Fringe. In 2014 they staged the company's debut show, The Pirates of Penzance, and this year they're delighted to be bringing H.M.S. Pinafore to Fringe audiences.
The production team have been involved in Gilbert & Sullivan productions, choirs and musical theatre for many years, on and off stage, and after collaborating on last year's sell-out show they are very happy to be working together again on H.M.S Pinafore.
The cast is made up of 21 people, mostly in their twenties and thirties, who live and work in and around Edinburgh. Linked by various choirs, Gilbert & Sullivan societies and other performing groups, they have come together to form a fantastic cast for Cat-Like Tread's Fringe performances in 2015. They will be accompanied by a nimble-fingered pianist.
---
Tweets by CatLikeTheatre