Hiroshi Shimizu
Japanese Samurai Don Quixote Challenging Against English Giant Windmills!
Storytelling / Stand-up
1:30pm (1 hour)
6-17 & 19-30 Aug 2015
Free
This is a 2015 show that has now finished.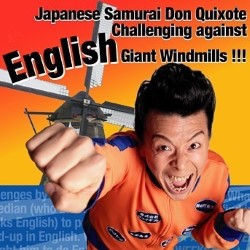 Show details
Storytelling / stand-up starring Hiroshi Shimizu performed on the following days in August 2015...
Mon
Tue
Wed
Thu
Fri
Sat
Sun
03
4
5
6
7
8
9
10
11
12
13
14
15
16
17
18
19
20
21
22
23
24
25
26
27
28
29
30
31
1
2
Venue details
A comedian came to Edinburgh from Japan, the country worst at speaking English! After miscommunication, cultural friction, struggle with an immigration officer, a disastrous first performance at a lap dancing club, aggressive flyering with poor English, and incomprehensible quarrels with drunken audiences, what did he find in Edinburgh? How did he get featured in a Times article? Did he see the light in the new world of English comedy? This is a solo documentary comedy show about the struggle anyone can have in their new challenge. Based on a true story.
Share this show
Reviews
Press coverage
Full press release
This is not just a story telling and not just stand-up, but a 'story telling comedy' that features both. This is the story of an eccentric Japanese comedian, Samurai Don Quixote Hiroshi Shimizu, and his quest and struggle to perform stand-up comedy in English at the Edinburgh Festival Fringe.
Through his difficulties in communication (particularly in English), cultural differences, and a mixture of heckling and warm support from the audience, Shimizu gradually discovers that comedy has the power to be a 'bridge over troubled water', bringing mutual understanding and respect across different cultures and countries.
Shimizu tells of his very personal and peculiar experience and the combination of his hilarious comedy routines, likeable character and energetic acting, engages the audience instantly. The audience feel magically connected to his personality and outrageous quest, with laughter, thrills, and genuine empathy. The show culminates in a life-affirming celebration of the original spirit of the Edinburgh Festival Fringe, where both the performers and audience members give something special to one another. Samurai Don Quixote offers a unique, quintessential Fringe experience as a powerful antidote to other overly commercialised comedy shows.
For 25 years Hiroshi Shimizu has performed for Japanese television, radio, films, and in theatres all over Japan. He is renowned for facing up to challenges, refusing to be content with his fame. While being an established actor, he also performs interactive absurdist and stand-up comedy both in Japanese and English. He has performed in the Avignon and Grenoble Theatre Festivals in France, and in Italian theatre festivals. In 2012 Shimizu, was featured in The Times as one of a select group of successful international comedians at the fringe. Shimizu's challenging work has attracted widespread public attention in Japan.
---
Tweets by hiroshi_comedy