Henry von Stifle
Henry von Stifle's Enter the Dragon
Stand-up
10pm (1 hour)
7-16, 18-23 & 25-30 Aug 2015
Free
This is a 2015 show that has now finished.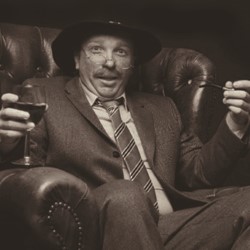 The listing for this show in the printed programme is wrong. The following details are more likely to be correct, but we suggest you independently check.
Show details
Stand-up show starring Paul Dance performed on the following days in August 2015...
Mon
Tue
Wed
Thu
Fri
Sat
Sun
03
4
5
6
7
8
9
10
11
12
13
14
15
16
17
18
19
20
21
22
23
24
25
26
27
28
29
30
31
1
2
Venue details
Renowned philanthropist, author, historian, orator, humanitarian, amateur vet, world record holder for the longest time a man has carried a toaster, pimp Henry von Stifle is ready to share his secrets of working for MI5 - all along to the entire soundtrack to Enter the Dragon. Listen to Henry's trials and tribulations, of his mission to North Korea, and his shocking discovery of Korea's lack of fizzy drinks! The perfect show for those who delight in a daft character comedy. 'An hour of solid nonsensical laughter' (ShortCom.co.uk).
Share this show