Hate Children Children's Show
I Hate Children Children's Show
Variety
11:45am (1 hour)
5-16, 18-23 & 25-30 Aug 2015
7 - 12
This is a 2015 show that has now finished.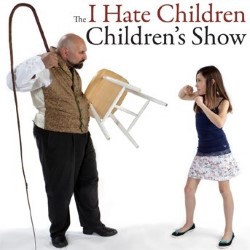 Mon
Tue
Wed
Thu
Fri
Sat
Sun
03
4
5
6
7
8
9
10
11
12
13
14
15
16
17
18
19
20
21
22
23
24
25
26
27
28
29
30
31
1
2
Venue details
Edinburgh's top rated children's show is back for another year of kinder kicking komedy. Your little monsters are the stars of this award-winning magic show that's truly fun for the whole family, as every child 8+ is invited on stage to help with the magic. 'Cannot recommend enough!' (ThreeWeeks). Starring world's meanest magician. Featuring live music, champagne for moms, and tons of magic. If you love your kids but hate boring kids' shows then you need to get your tickets now as the show sells out regularly. 'No ordinary kids' show' (BroadwayBaby.com).
Share this show
Reviews
Full press release
The meanest man in the world, Paul Nathan, stars in this award winning children's show along with guitarist, Marty Hailey.
The show is geared for families with children 8 years and up. Champagne is served to parents before each show and parents are encouraged to slip a little whiskey into their sippy cup to make the nonsense more bearable.
Every child is 8 up invited to join us on stage and participate in a magic trick. Photos of all the children are posted on our website, www.ihatechildren.com. In addition to great magic, the show features live music with songs like Magic Bag of Disappointment.
Named Best Children's Show in 2011 and nominated for a Bobby in 2012. In 2013 the show was the number two rated by the press overall according to the List.
Credits