Giada Garofalo
Live in the Staff Room (Sex, Fairy Tales, Serial Killers and Other Stuff)
Stand-up / Storytelling
2:45pm (1 hour)
6-17 & 19-29 Aug 2015
Free
This is a 2015 show that has now finished.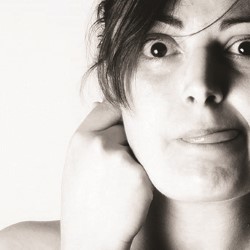 Show details
Stand-up show / storytelling starring Giada Garofalo performed on the following days in August 2015...
Mon
Tue
Wed
Thu
Fri
Sat
Sun
03
4
5
6
7
8
9
10
11
12
13
14
15
16
17
18
19
20
21
22
23
24
25
26
27
28
29
30
31
1
2
Venue details
Giada comes back to Edinburgh with a brand new hour of fun, dark material, from sex to fairy tales. 'Warm, funny, confident and out there' (Kate Copstick).
Share this show
Reviews
Press coverage
Full press release
Fed up with the constant feminist-antifeminist debate, especially when it comes to pornography, Giada Garofalo has - at the 'tender' age of 37 - started to watch some porn to see what all the fuss is about.
The problem is, it's hard for Giada to judge porn because she's really into serial killers... like Jeffrey Dahmer who used to eat his victims to keep them always with him, to "love" them happily (just him, the victims not so much) ever after... a bit like a fairy tale. In fact, it's exactly like a fairy tale - did you know that in the original stories, Sleeping Beauty is raped by the king while in Snow White the prince is a necrophiliac and the queen is a cannibal?!
Porn doesn't sound so bad now, huh?
NOT suitable for families.
About Giada Garofalo
Giada was born in Italy but lives in London. She's been performing comedy for the last 7 years. In London she co-runs an experimental bilingual Italian/English comedy night (Il Puma Londinese/The London Puma) which plays at the Fringe Festival this year on 13th and 20th of August at 10pm, as part of Heroes @ The Hive.
Giada works as a freelance political and business researcher. She specialised in Security Studies, with a focus on terrorism. Previously she has worked as freelance academic researcher, writing extensively on the European Enlargement Process, Human Rights in Turkey and Freedom and Security in relation to theories of the State.
Basically, she's never managed to hold down a 'proper' job for longer than 13 months!
---
Tweets by FlipperGiada