Ghostwriters
Adventures of the Improvised Sherlock Holmes
Improv
3pm (1 hour)
6-17 & 19-30 Aug 2015
5
This is a 2015 show that has now finished.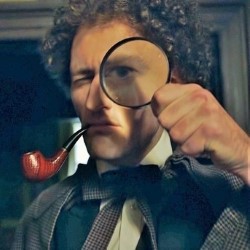 Mon
Tue
Wed
Thu
Fri
Sat
Sun
03
4
5
6
7
8
9
10
11
12
13
14
15
16
17
18
19
20
21
22
23
24
25
26
27
28
29
30
31
1
2
Venue details
No script Sherlock! The stars of Fringe sensations Racing Minds and Impromptu Shakespeare take you on a thrilling new adventure each day through the underworld of Victorian Britain, packed with shady villains, red herrings and the brilliant deductions of London's great detective. Light up your (imaginary) pipe as a completely spontaneous and exceedingly engrossing mystery tale unfolds before you, with rollicking plot twists and hilarious characters - different every day and based on audience suggestions! Not to be missed. Family-friendly. 'Outstanding' **** (BroadwayBaby.com). 'Wonderfully amusing' **** (EdFringeReview.com).
Share this show
Reviews
Press coverage
Full press release
After wowing full houses in previous years, Fringe regulars Racing Minds and Impromptu Shakespeare have formed a new spin-off group to tackle the hardest challenge in improv: to imitate the greatest mind in literary history.
"This is real high-wire stuff," says cast member Daniel Nils Roberts. "How do you push some of the best improvisers in the country? Get them to tell a great story, to make funny and loveable characters - and on top of that, solve a bizarre mystery, in an hour, all from a single suggestion".
Performing at 3pm every day at Just the Tonic Community Project, just off Grassmarket, the brand-new show has already been selling out in their 150-seater venue, with 12 out of 18 of their shows so far maxing the venue capacity.
"We had no idea how this would play, it's a pretty exciting thing to warm up before your first show and hear the roar of a queue round the block outside. People just seem to get this, which is thrilling" says cast member Alice Winn.
The versatile troupe have their fingers in many of the improv pies at the Fringe, with the cast being involved in nine shows between them, including Aaaand Now for Something Completely Improvised, The Peablossom Cabaret, Impromptu Shakespeare, The Oxford Imps, and Sh*t-Faced Showtime.
The show rotates who plays Sherlock Holmes each day, with more than a nod to the local references and birthplace of Sir Arthur Conan Doyle, Edinburgh.
Tom Wilkinson, director of the troupe, says: "The show is completely new every day, prompted by a suggestion slip we pick out of a silk top hat. Everyone in the queue gets to suggest what the 'case' Sherlock will solve that day will be - we feel like we're drawing on the same sources of literary inspiration that Doyle himself used".
All the members bar one of the troupe originally met in the Oxford Imps, whose spin off group of 2008 graduates formed Austentatious, now one of the biggest improv names at the Fringe - but they have a curious mix of backgrounds: Sam Plumb is a PhD student studying Renaissance theatre, Erin Simmons is an anthropologist who manages an institute currently trying to save Syria's heritage, and Daniel Nils Roberts a documentary film-maker. The only thing that unites them is a love of all things Holmesian.
Cast member Tom Skelton says "We've tackled improvised Agatha Christie, Radio Plays, Arabian Nights - Shakespeare even - before, but this has to be one of the most interesting genres for an improviser".
Director Tom Wilkinson, a huge Sherlock fan since a boy (who owns a personal Sherlock library), adds "with the recent revival of Sherlock thanks to Robert Downey Jr and Benedict Cumberbatch, it's been great to be part of a movement which brings these thrilling stories to new audiences and the younger generation especially."
Dylan Townley, show producer, said: "We wanted to create show that had mystery, intrigue, Victorian drama and a cracking case for Holmes to solve. Of course because it is improvised, no matter how Holmes 'solves' the case, he will always be right as the cast on stage will support and build upon whatever crazy theory Sherlock comes up with. It is great fun and a bit tongue in cheek - we get ourselves into a complicated situation with the improvised plot, then Holmes always finds his way out. As he should".
Cast
There is a rotating cast of seven, of which five perform a new show each day: Erin Simmons, Sam Plumb, Daniel Nils Roberts, Tom Wilkinson, Alice Winn, Dylan Townley, and Tom Skelton.
Credits