Flick & Julie
Flick and Julie: Pop-Up Penny Pinchers
Sketch show
3:30pm (1 hour)
10-18 & 20-29 Aug 2015
Free
This is a 2015 show that has now finished.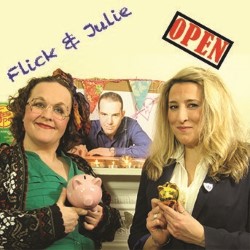 Mon
Tue
Wed
Thu
Fri
Sat
Sun
03
4
5
6
7
8
9
10
11
12
13
14
15
16
17
18
19
20
21
22
23
24
25
26
27
28
29
30
31
1
2
Venue details
A friendship forged in hard times, Flick and Julie are an unlikely pairing who have come together to make your pennies go further. The notorious cash crusaders throw open the doors to their Pop-Up Penny Pinching Shop. Come along for priceless advice*, sketches and songs. *donations welcome.
Share this show
Press coverage
Full press release
Post prison, with CV's that cover everything from tax fraud, to stalking a high profile TV personality, Flick and Julie had to get their lives back on track. The unlikely pairing formed a strong friendship behind bars and then a pop-up, money saving advice shop upon release - its roaring success has meant you'll find them popping up everywhere from skips to Scotland. They share their experiences and give advice, through comedy sketches and songs. Their aim - helping you to survive in the modern age, on 1970's wages.
Beth Granville plays Flick, in Pop Up Penny Pinchers. Among Beth's acting credits are Stella, Gavin & Stacey and Scot of the Antarctic (BBC Radio Wales). Beth has also written comedy for BBC Radio, Live sketch comedy shows such as Sketchageddon and her full length play, a comedy entitled Foiled is in development with Cardiff based theatre company, Difficult Stage.
Gemma Layton plays Julie in Pop Up Penny Pinchers. Gemma is a Funny Women semi finalist. Acting credits include Doctors (BBC) and Mr Love (BBC Radio 4) and she is also known as her stand-up alter-ego Mercedes Benson, as whom her song Shopping in Lidl went viral with over 1 million YouTube hits.
---
Credits
Tweets by flickandjulie