Foil Arms & Hog
Foil, Arms and Hog: Skiddlywup
Sketch show
10pm & other times, see below (1 hour)
6-30 Aug 2015
10 - 12
This is a 2015 show that has now finished.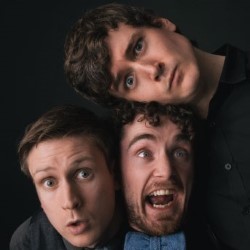 Mon
Tue
Wed
Thu
Fri
Sat
Sun
03
4
5
6
7
8
9
10
11
12
13
14
15
16
17
18
19
20
21
22
23
24
25
26
27
28
29
30
31
1
2
Days marked with a + indicate multiple performances.
Differing performance details
7 Aug, 11:20pm
8 Aug, 11:20pm
14 Aug, 11:20pm
15 Aug, 11:20pm
21 Aug, 11:20pm
22 Aug, 11:20pm
28 Aug, 11:20pm
29 Aug, 11:20pm
Venue details
Irish comedy, potato, potato, potato, potato, potato, potato, potato, potato, potato, potato, potato, potato, potato you racist. Ireland's top comedy trio. Sold out Edfringe 2009 - 2014. Over 4 million hits on YouTube. Fringe favourites Foil Arms and Hog present a delicious blend of bizarre, surreal and hilarious comedy scenes with outrageous characters and unexpected twists. Book early. ***** (Examiner). ***** (BroadwayBaby.com). ***** (@StageWon). ***** (TheLatest.co.uk). These lads are mental and hilarious - Jason Byrne. Foil Arms and Hog are really, really funny - Kevin Bridges. An effervescent hour of fast-paced gags, fizzing with energy,
Share this show
Reviews
Press coverage
Full press release
Back at EdFringe after 6 consecutive sell-out runs (2009-2014) and a debut UK tour...
Fresh from a 20 date debut UK tour taking in all 3 Stand venues, Manchester, Nottingham, Exeter, Milton Keynes, Leeds, Brighton, Bristol and a sell-out finale date at the Udderbelly venue (420 seats) on London's Southbank - Foil, Arms and Hog return to the Fringe.
Foil, Arms and Hog shows are a fast paced mix between sketch comedy and stand-up, with twisted characters, unpredictable scenes and high-energy performances. Skiddlywup is their brand new offering for 2015, featuring a whole host of fresh, new material. Extra shows have already been added on Friday and Saturday nights due to such popular demand.
Their shows are feel good and upbeat, with a unique range of material and sketches, which have surprised and delighted their audiences all over the world. Exuding unbelievable energy and embodying a multitude of ridiculous characters, it's no doubt people leave a Foil, Arms and Hog show on a natural high.
Foil Arms and Hog are also known as Sean Finegan, Sean Flanagan and Conor McKenna. As a group, they are stars of Jason Byrne's Snaptastic show, regularly appear on Funny Or Die and count amongst their fans Ronan Atkinson, John Bishop and Tommy Tiernan.
In 2014, FAH appeared on BBC R4's Sketchorama, performed sell out shows at sketch festivals in London, San Francisco and Chicago as well as shows in Paris, Los Angeles, Hawaii and a 3 week run at the Adelaide Fringe Festival (where they won the Best Comedy Award). Other performances include the Vodafone Comedy Festival, Dublin Fringe Festival and Belfast Comedy Festival. As well as this FAH have performed 2 homecoming shows at Dublin's Vicar Street, selling over a thousand tickets each time and garnering rapturous receptions.
The trio also have a large online presence, with over 5 million hits on their YouTube videos, the Foil Arms and Hog channel has over 5 thousand subscribers and the boys upload new content every week - often featuring regular characters.
---
Credits
Tweets by FoilArmsAndHog